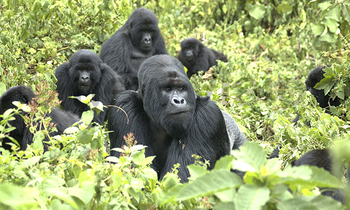 Mountain Gorillas are the biggest foreign exchange earners to the coffers of Uganda Wildlife Authority, contributing up to 60% of the revenue, according to Ephraim Kamuntu the tourism minister.
"Uganda's tourism is the top foreign exchange earner ahead of remittances," said Kamuntu, adding that Uganda's tourism is nature-based meaning that it thrives on wildlife including Mountain Gorillas.
He said Uganda used to thrive on revenues from the three Cs (Coffee, Cotton and Copper). "Not anymore," according to Kamuntu, adding that tourism employs 8% of Uganda's labour force which Kamuntu estimated at one million.
He also pointed out that Uganda has 54% of the population of the Mountain Gorillas living in Bwindi Impenetrable National Park and Mgahinga in southwestern Uganda. The rest of the Gorilla population is found in Virunga (Mgahinga), Rwanda and DR Congo.
Kamuntu also described Uganda as a country gifted by nature because it is where the East African savanna encounters the tropical rain forests. It also has the rift valleys and lakes as well as the River Nile.
He was speaking on Wednesday at the Uganda Media Center in Kampala ahead of the second Congress of the African Primatological Society (APS) to be held September 3-5. The three-day meet will have several sessions at Imperial Botanical Beach Hotel, Entebbe.
Prime Minister Ruhakana Rugunda is expected to preside over the opening ceremony as the chief guest. Kamuntu is expected to introduce him to the congress.
The agency heads or representatives that attended included Uganda Wildlife Authority, Uganda Tourism Board, Uganda Wildlife Education Centre and Conservation Through Public Health.
The APS is expecting 200 primatologists from Africa, non-African researchers and conservationist from across Africa and other parts of the world.
Apart from remarks from the politicians at the opening ceremony on September 3 and the closing of the Congress on September 5, the main activities include will include keynote addresses, oral presentations, poster presentations and round table discussions.
Dr Gladys Kalema Zikusoka, a conservationist says culture is one of the reasons why people conserve primates. For instance, totems for some tribes such as Bakonzo in Western Uganda conserve chimpanzees and their habitats.
Kamuntu hailed Kalema-Zikusoka who is the vice president of APS for lobbying the conservation fraternity to bring the congress to Uganda.
Plant trees
To attract more tourists, Ugandans have been urged to plant more trees so as to conserve wildlife.
Kamuntu said that planting trees is a matter of survival and it should be done not only to ensure that global warming doesn't affect our country but also to conserve wildlife given the fact that forests are their habitats.
"If you have land, plant trees to conserve this for both our own survival and the future generation to benefit," said Kamuntu.
He also noted that the conference is beneficial to the nation because of the new policy known as MICE (meetings, incentives, conferencing, exhibitions).
He also pointed out that Uganda is becoming a preferred destination for conferences.