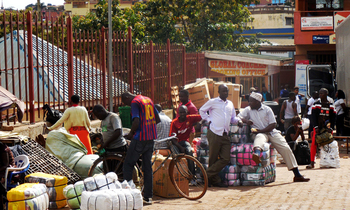 ACCIDENT GLOBAL BUS
All buses belonging to the Global Coach bus company have been put to a halt following a fatal accident on Tuesday night Kabuye -Kyabadadaaza Mpigi district along the Masaka highway.

According to one of the passengers, Allan Barigye, only five buses belonging to Gateway have transported passengers since 7:00am in the morning.

"All the Costas and taxis have increased their fares too from sh15,000 to sh20,000. They are not allowed to enter the bus park and they are overloading," Barigye added.

Global buses were put on a temporary halt by the transport licensing officials.

According to some passengers, even the available buses of other companies had increased the fares from sh20,000 to sh30,000 for a journey from Kampala to Mbarara.

According to one of the security officers who did not want to be identified, the buses were shifted from the bus park to some unidentified location. He says they don't know when the buses will be brought back.

On the evening of Wednesday, the bus owners and the transport officials were in a closed meeting and indicated they were not allowed to talk to the media.

On Tuesday evening, three people died on the spot, while six more were admitted to Nkozi Hospital with serious injuries. The bus reportedly collided with a taxi as it was trying to overtake.

0n July 15th, 2019, two people died when a bus of the same company collided with a Toyota Premio and all the people in the Premio died.
Some passengers opted to use taxis, but they had hiked the fares and were overloading. Photo by Simon Peter Tumwine

Last week, buses belonging to YY coaches were temporarily grounded when they got involved accidents in various locations of eastern Uganda in just two weeks.

According to the annual Traffic and Road Safety report 2019, more than 3,000 people were killed and another 10,000 got injuries of varying degrees in 13,244 road accidents last year.

It further indicates that nearly half of the dead were pedestrians and 918 were motorcyclists, meaning less than 1,000 died in car crashes.

The latest statistics by police indicate that at least 3,500 people have been dying in traffic road accidents annually in the past three years. Below is a sneak peek into the accidents that have happened along the highway path.

August 27, 2019: Five members of the same family died on spot following an accident involving a Global bus which collided head-on with a commuter taxi from Masaka at kyabadaaza on Masaka-Kampala high way.

August 5, 2019: Two people were killed on the spot when a truck knocked a motorcycle at Mpambire, Mpigi district on the Kampala-Masaka high way.

August 5, 2019: An Isuzu truck registration number UAR 280X knocked a motorcycle killing a rider and the passenger on account of reckless driving.

May 22, 2019: At Masaka-Mutukula road, the Rwandan driver in Rwandan registered Land cruiser lost control and collided with the speeding truck that was carrying dozens of rice bags when occupants of the truck turned off the road into a swamp and died instantly.

April 26, 2019: Six people including the Resident District Commissioner (RDC)of Koboko district Isaac Kawooya perished in a terrible accident when he was coming from an inauguration ceremony of the Mbarara district khadi Abdallah Mukwaya. the ceremony was presided over by the president.

January 18, 2019: An over-speeding bus, Reg. No. UAY 097G, heading to Rukungiri district from Kampala, over-turned at Lwera stretch, about three Kilometers from Lukaya town. Luckily all 80 passengers on board, survived, with some of them sustaining minor injuries.

January 31, 2019: The Uganda Martyrs SS Namugongo, headteacher Fr. Henry Kasasa survived a motor accident at the Lukaaya trading centre in Kalungu District. He was travelling from Masaka to Kampala when a Premio registration number UAY652L that was heading to Masaka from Kampala tried to collide with Fr.Kasasa's car to diverge off the road; failed and overturned.

January 22, 2019: Two people were confirmed dead and 30 others injured in a fatal accident involving five vehicles at Kiringete sub-county along Kampala Masaka highway in Mpigi district.

November 6, 2017: 13 Tanzania nationals and one Ugandan perished, and others sustained serious injuries on the Kampala-Masaka highway when they were returning home after attending a wedding in Tanzania.

December 31, 2018: Bamugu while travelling with his children were involved in a car accident on their way to Karumaga in Lwamenge, Kalungu to celebrate the New year with his mother.

November 12, 2018: Six people from the Uganda Peoples' Defence Force (UPDF) narrowly survived death after the driver lost control and the car, they were travelling in from Makanke barracks in Mbarara overturned along Kampala-Masaka high way.

December 7, 2017: A trailer rammed into a taxi registration number UBB496D heading to Masaka left seven people seriously injured with broken limbs.

October 1, 2017: Mohammed Nshekanabo from Buikwe a Fuso driver and Kizito one was involved in an accident when a Fuso head on to an Isuzu at kyengera on the Kampala -Masaka high way.