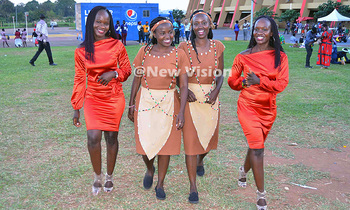 KAMPALA TWINS FESTIVAL 2019

Vision Group's annual twins' festival took place on Sunday, with hundreds of mostly twins, triplets and quadruplets attending the event at Mandela National Stadium, Namboole.

It was an opportunity for the sets of identical human beings to show off not only their resemblance, but also their sense of fashion. New Vision's Mathias Mazinga, armed with a camera, moved around the florid venue to capture the people who graced the festival.

A wide range of colours were on display. This pair of twins went for a pink look.


New Vision's Petride Mudoola (below right) always attends the festival with her twin.


The thousands of look-alikes who thronged the festival had a fun-filled day. Blue was a popular colour hue.


The festival provided a perfect opportinuty for a family day out. Not even the early morning shower could dampen the spirits of those who had marked off the festival date on their calendars.


This year's edition attracted twins Roslyn Wanjiru and Betty Mwihaki (below on the left) from the Kenyan capital Nairobi, as well as Hanne Melckebeke and Lore Melckebeke from Belgium (not in the picture).


The sense of fashion was varied. What one does, the other does too . . . even if it is about enjoying a lollipop.


Some twins came warmed up in their baby onesies and buckled up in their baby strollers.


A camel ride, anyone?

You normally see these rides in the desert, but the twins festival brought the thrill from the oasis to the stadium. A bumpy-humpy ride on the gentle giant.


The little ones came in the company of their adult minders.

Mothers are gifted with admirable inner strength!


A damp Sunday eventually metamorphosed into a beautifully warm one.


These brothers looked cool - and their pose spoke confidence!


A proud mother :)


Doing most of everything together!



CLICK HERE FOR MORE STORIES ON TWINS
ALSO RELATED TO THIS ARTICLE

2018 edition: Can you tell them apart? Spot the difference