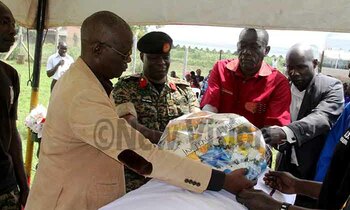 ACCIDENT

KOLE - The mother of a six-month-old baby who perished in a nasty accident on Jinja - Kampala Highway on Wednesday has been laid to rest at her ancestral home in Kole district in an emotional sendoff attended by hundreds of people.

Lynette Atim Nabunya, 41, a teacher at St. Kizito Nakatyaba Primary School in Buikwe district died on spot in a crash involving a trailer in which she was traveling in and a Fuso truck in Lugalambo Village, Buikwe district.

Atim survived with four children and an unspecified number of dependents.

The Fuso truck that was carrying boxes of tomatoes was heading to Kenya from Kampala while the trailer belonging to seroma Ltd Company was heading to Kampala.
The funeral of Atim, a close relative of Brig. Gen. Sam Omara, the deputy Chief of Military Intelligence was conducted by UPDF funeral Services at their home in Aculbanya, Aboke Sub County in Kole district.

Omara introduced the child, David Rodlyn Watua who survived and said they were going to take good care of him. He described Atim as a great, well behaved, hardworking and principled person.

Col. Paddy Ankunda the director of strategic communication under the Chieftaincy of Military Intelligence (CMI) who represented the army and in particular CMI in his condolence message said for the deceased to depart at such a tender age was sad.

Ankunda read a condolence message from CMI in which they sympathized with the family of Brig. Gen. Omara and delivered sh5m as burial contribution.

Kole Woman MP Judith Alyek said she learnt of the death from the social media and did not know the person was from Kole district until she was informed by a colleague.

Alyek noted that accidents have become rampant in the country due to careless driving where some people disregard other road users.

Alyek appealed to leaders at all levels to play a key role in eradicating road accidents.

Holding the surviving baby in her hands, Alyek prayed for it but shortly due to a lot of grief, she broke down in tears.

Bonny Okello, the MP for Kole north blamed drivers for being careless despite efforts by the government to improve roads.
"The Traffic Act is being brought back to parliament for amendment and we are going to deliberate for stringent penalties," Okello emphasized

The MP also called on local leaders of Kole to use the road work equipment to improve the roads in the district which he said were in a very bad state.

A delegation from Buikwe district including teachers, parents delivered their condolence messages and paid their last respect to the deceased.

In a message, Nalubega Joyce, the District Education Officer Buikwe district described Atim as a good and committed teacher.
Paul Ahimbisibwe the headmaster of the school where Atim taught described the deceased as a dedicated teacher and a good mother.