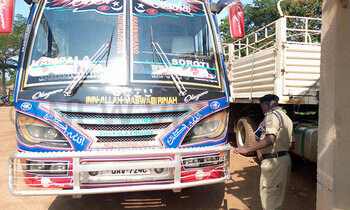 ACCIDENT
SOROTI-Three days after YY Bus got involved in a fatal accident that left 10 people dead along Tirinyi-Mbale road, the bus from the same company has knocked dead a 38-year-old woman in Soroti town.
The 8:00 am incident happened along Mbale- Soroti Road at Opuyo in a famous trading center called Television which is about five kilometers from Soroti town.
Christine Anyait a resident of Omirio village, Owalei parish in Soroti sub-county, was knocked by YY bus registration number UAV 724C which was on its way to Soroti town from Kampala.
Anyait was on a boda boda registration number UEP 430K, according to the police spokesperson for Kyoga East, Michael Odongo.
He explained that Anyait died moments later at Soroti Referral Hospital while the boda boda rider, Stephen Olwech, aged 22, a resident of Opiro in Soroti sub-county is still in critical condition at the same hospital.
Police have detained the bus driver Lwogoba Mohamed, 38. The accident is said to have been caused by speeding. By press time the body of the deceased was still at Soroti mortuary where doctors were to perform an autopsy.
ANOTHER DEADLY EPISODE ON THE ROAD
A six-month-old baby is said to have survived the accident involving a trailer and a Canter truck at a "black spot" in Kitigoma, Buikwe district.
The accident happened at around 2:00 am on the boundary of Kitigoma and Lugalambo.
The vehicles were mangled in the deadly head-on crash
The driver of the cement-laden trailer remains trapped in the wreckage as his fate is unknown. The trailer was headed to Kampala from Jinja.
The dead woman was with the baby in the trailer at the time of the accident. She was soon identified as a teacher of St. Kizito Nakatyaba Primary School, Buikwe.
The baby who survived with no injuries was taken to Kawolo Hospital for a medical check-up.
ALSO RELATED TO THIS STORY

'Many dead' in Mbale-Tirinyi road crash
Oil tanker fire: Turn-boy narrates ordeal
2 dead, 45 injured in Mbale bus accident