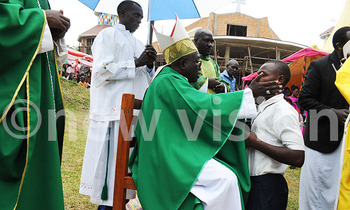 The Bishop of Hoima Catholic Diocese, Rt. Rev. Vincent Kirabo has advised parents to nurture their children with good societal values and descent health conditions in a bid to have a responsible and healthy young generation.

''It is easy to a young person bypassing an elder or a senior person without greeting them. It is also common that some young people do not wash their face and brush their teeth when they walk up in the morning," said Kirabo.

Bishop Kirabo made the remarks on Sunday during his pastoral visit to St. Mary's Kagadi catholic parish in Hoima Diocese.
He stressed the need for parents to teach children the value of greeting an elder as well as the importance of washing the face, brushing teeth and bathing.

Bishop Kirabo explained that some people have grown up without being taught social values, norms and cultural beliefs, hence behaving in a peculiar way contrary to public expectations.

"It looks queer of me to confirm into the Catholic faith, a child with unkempt hair, an unwashed face or one with body odour. Parents should ensure children are taught well on how to maintain personal hygiene," he said.

Bishop Kirabo was also concerned about the failure of some children to pronounce their Christian names as well as speaking audibly. He, however, thanked them for being submissive to God, welcoming him and reciting all basic principles in the catechism Book.

Kirabo advised fathers to spare time for their children instead of using business activities as an excuse. He advised fathers to teach their children moral principles as well as loving them, and attending Sunday prayers with them.

He implored teachers in primary and secondary schools to not only teach academic content, but also social issues such as morality, personal hygiene, and creativity.

Bishop Kirabo confirmed a total of 345 children into the catholic faith.

Bishop Kirabo further castigated acts of witchcraft, indecent dressing, alcoholism, and laziness.
He urged Christians to work hard by initiating projects meant to improve their household income, citing vegetable growing, piggery, poultry, cattle keeping and tree planting.

He urged politicians, religious leaders and public servants to help the society in transforming from peasantry to modernity. He thanked Christians of St. Mary's Catholic parish for working hard to construct a multi-Billion Shillings catholic parish due to be commissioned soon.

Rev. Fr. Jude Ahebwa, the parish priest at St. Mary's Kagadi, thanked the Bishop for visiting the parish, where he enumerated projects that the church has established since its inception in 1997, including a banana plantation, pineapple gardens, tree growing projects and a parish canteen from where the church generates income for sustainability.

Byaruhanga Steven Mfashingabo, the Kagadi district Chairman thanked the Bishop for visiting the district and pledged total support to the church activities. He urged Christians to continue with the spirit of giving and appreciating God's blessings.

Eric Musana, the Buyaga East Mp, applauded the church for nurturing the young generation in regard to integrity, morality and development.

He also pledged total support to church activities in an effort to promote spiritual and economic development, as well as lobbying for more resources to support church projects.