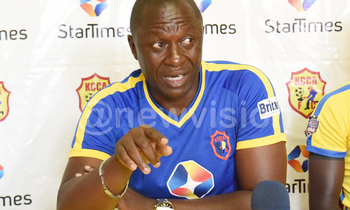 The Premier League's most successful manager, Sir Alex Ferguson, once said: "attack wins you games, defence wins you titles."
What he meant was that you need a good blend of both to win important things. You cannot thrive on a solid attack alone and vice versa.
You need a good defence to play good attacking football otherwise you are going to leave yourself totally exposed on the counter when your forwards lose possession.
Much as Fergusson was seen by many as a master of winning titles with inferior backlines, he also acknowledged the sanctity of a solid defense.
Uganda's two representatives on the continental club scene KCCA and Proline provide two extremes to this principle.
While Proline, who beat Malawi side Master Security Services 3-0, were spot on with the principle of attack and defence, KCCA, on the other hand, seemed to have got it all wrong.
KCCA coach Mike Mutebi is a strong advocate of the attacking game. This is indeed very good, especially in the largely defensive Ugandan game.
What, however, makes Mutebi's approach suicidal, is the fact that in his quest to quench his seemingly insatiable thirst for attack, he throws caution to the winds.
The Lugogo side has on numerous occasions taken the lead but failed to protect it as it sought to win by even bigger margins.
You've certainly not forgotten the Esperance versus KCCA 2018 match when KCCA took a two-goal lead only to squander it with an all-out attacking mentality.
Esperance eventually won the Champions League match in Tunis 3-2.
It was an almost similar case in KCCA's Champions League preliminary away encounter with Namibia's African Stars on Saturday.
KCCA got a priceless away lead. Rather than protect it with a reinforced backline it chose to pile more pressure on the hosts, who in the process cashed in on a wide-open defense to level the score.
Five minutes to recess, the hosts took the lead. But KCCA clawed its way back equalizing. Any visiting team would have given its all to protect this second golden chance of a priceless away draw.
KCCA didn't and in the process conceded a third goal eventually losing 3-2.
What's hurting about the result, is the fact that KCCA could have actually pulled off a draw or even won the match.
That this is not the first time this is happening, raises serious questions about Mutebi's tactical discipline. He vividly lacks that key ability to balance the attack and defence of his team.
Defence is just as much integral to a team as its attack so you got to have the right balance to win games and titles. Good managers know that and build teams with a strong spine.
The sooner Mutebi gets to know this the better. For starters, he could do with a more seasoned defence line.
Timothy Awany's absence is already being felt. But rather than playing Hassan Muasana, who formed a solid pairing with Awany, Mutebi chose to play newcomers Peter Magambo and Samuel Kato at the heart of his defence.
But well this was merely preliminary. The next stages will be a different story with such recklessness punished severely.