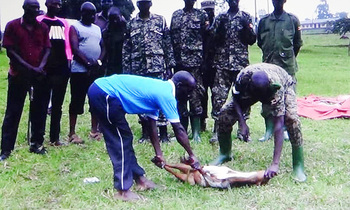 RELIGION

WAKISO - The Uganda Peoples' Defence Forces joined the rest of the Muslim fraternity to celebrate Eid Aduha on Sunday.

They marked the day at the First Infantry Division headquarters in Kakiri, Wakiso district with the symbolic ritual of slaughtering animals.

The goats and sheep slaughtered on the day were drawn from the UPDF farming projects in Kakiri barracks and others donated by friends of UPDF. The meat was distributed to soldiers and their families as well as to members of Luwunga trading centre in the surroundings of the barracks.

Abaasi Kayiira, a retail shop owner in Luwunga, was delighted to receive 2kg of meat.

"The UPDF has done a lot for us here, but we had never received meat before from them. We draw water from their pump, and when it is broken down, we use their borehole. We thank the army leadership for this gesture," he said.



UPDF celebrates Eid Aduha as an affirmation of the fact that UPDF as a national force respects all religious faiths without discrimination.

Maj. Gen. Samuel Kawagga, the First Infantry Division commander, thanked friends of UPDF who donated to them animals on top of what the UPDF had drawn from its farm.

He underlined that UPDF is a multi-ethnic, multi-gender and multi-faith national force, the reason it celebrates together whenever there such occassions as Eid. "We do everything together."

Eid Aduha is observed every 10th day of the 12th Islamic month Zulhaj.

The slaughtering of animals is a symbolic ritual that reminds the Muslim faithful of Prophet Ibrahim, who vowed he would sacrifice his only son if God gave him one. Basing on his sincere intention to fulfill his vow, God substituted for him a sheep to slaughter.