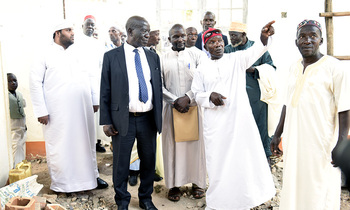 RELIGION | EID ADUHA

MASAKA - Vice-President Edward Kiwanuka Ssekandi joined the Islamic community in Masaka in prayers marking this year's Eid Aduha, with a call on believers to use the Aduha period to renew their obedience to God and service for humanity.

Ssekandi, who was accompanied by the United Arab Emirates (UAE) Charge D' Affairs in Uganda, Abdulraheim Obaid Saeed Al Falahi, was at Ttakka Junge Masjid and Lwensunsu Masjid in Kabonera sub-county in Masaka district.

He told faithful that Eid Aduha teaches the significance of obedience and faith to God as was exhibited by the grandfather of faith, Abraham, when he offered to sacrifice his only son Ishaq (Isaac).

Observing that obeying God's will is of paramount importance, Ssekandi hailed Muslims both in Uganda and around the globe for marking this great deed of Eid Aduha, which he said is one of the pillars of Islam.


According to a release from his office, the vice-president also paid glowing tribute to the Kingdom of UAE for the development projects around the country aimed at transforming the benefiting communities through a holistic approach from religious, economic, cultural health and educational empowerment.

He cited new projects in Masaka district that include a youth skilling centre in Kyanamukaka, new mosques at Lwensusu and Lwemoddde with a fully functioning primary school and modern ambulance to help those with emergency needs to reach health facilities in time.

On his part, UAE's Saeed Al Falahi said his country will continue to support development programmes in Uganda towards poverty eradication and improvement of the wellbeing of the people.

The UAE Embassy donated 10 cows and a tonne of rice to the Muslim faithful of Kabonera, Kyesiiga and Kyanamukaka to mark this year's Eid Aduha.

The prayers were preceded by touring of the Ttaaka junge Masjid that is being constructed by support of the UAE Embassy and also commissioning of the Lwensunsu Masjid also a donation by the UAE.



ALSO RELATED TO THIS STORY

In Pictures: Muslims celebrate Eid al-Adha