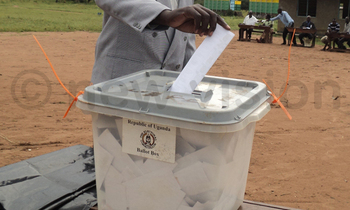 Ugandans living in South Africa have been asked to push hard to be allowed to vote from their respective countries of residence ahead of the 2021 polls.
The call was made by Kintu Nyago Uganda's deputy high commissioner to South Africa while addressing the newly appointed interim executive committee of the National Resistance Movement (NRM) Southern Africa Chapter in Randburg, South Africa.
Nyago said Ugandans should be able to convince Parliament and the government to allow them cast their votes like other countries where citizens are able to vote from where they are.
"I know you have talked about this issue several times but it is not the time to give up on it. Continue pressing the government and eventually you be given the opportunity," Nyago added.
In East Africa, some countries like Kenya, Rwanda and South Sudan have made it possible for citizens living in the diaspora to vote.
He asked the leadership of Ugandans living in South Africa to focus on politics that can unite them rather than dividing them due to political affiliation.
Isa Luzige, the chairman of the 21-member interim executive of the NRM Southern Africa Chapter said as the new executive they want a lot to change.
"We want the embassy to help us champion our demand for external voting. The NRM party has existed for over 20 years in South Africa but silent and not vibrant. It is upon that background that a new vibrant force and passionate comrades decided to revamp the party, structure it well, and legalise its activities and liaison with not only other diaspora comrades but with the secretariat back home," he said.
Bob Luswata Nkangi, the general secretary said they will be engaging the government to be allowed to vote in the forthcoming elections.
Those sworn in include the chairman Isma Luzige, general secretary Robert Luswata, vice chair Ronald Lubega, treasurer Diana Koenigsecker, vice treasurer Vincent Mucunguzi and publicist Alex Muhaire among others.