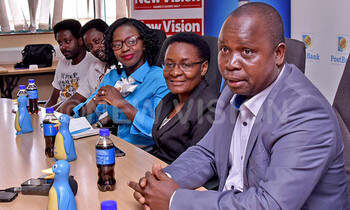 TWINS FESTIVAL

KAMPALA - The Parliament of Uganda, Post Bank, and Pepsi Cola are excited to be part of the forthcoming sixth edition of the Twins Festival.



Organized by Vision Group, the festival brings together twins, their parents, and relatives from various parts of the county each year.

The festival is the only occasion for the twins and parents to come together and celebrate their uniqueness and families in the region.

The director of communications and public affairs at Parliament, Chris Obore, said the festival is important for the House and Ugandans to celebrate the diversity of twins.

"We are a people-centered national assembly and we are not about to stop this kind of partnership that enables us to celebrate the diversity of the people of Uganda and the world," he said during a press conference about the festival at Vision Group offices in Kampala on Monday.

The event will take place on August 25 at Mandela National Stadium, in Namboole, Wakiso district.

The twins, he noted, demonstrate the uniqueness of the people and God's wonders. "We are taking part in the event yet again and we shall be available to take questions from twins and all Ugandans during the event," Obore added.

Jackie Tahakanizibwa, the head of marketing and communications at Post Bank, said the festival brings the institution closer to the people, and are always excited to be part of it.

"We are always excited to be part of this exciting event and this is the fourth year of our partnership with Vision Group for this festival. We shall be celebrating our culture and the twins and teach them how to save, especially the adult twins," Takahanizibwa added.

She explained that the twins will be helped to open bank accounts, and given "red carpet treatment," among others during the event.

"I urge the people to turn up in large numbers as we celebrate the twins. We shall also have the cash machine and twins will have an opportunity to win lots of cash," Takahanizibwa stated.

The Vision Group editor in chief, Barbara Kaija, said the festival is a special moment for the twins and their families.

"It is always an interesting occasion to see people who look exactly alike. You see the wonders of God! Twins are blessings to us. I would like to thank Parliament, Post Bank, and Pepsi Cola for taking part in this event. We look forward to a time when Uganda Tourism Board will come on board," she noted.


RELATED STORIES