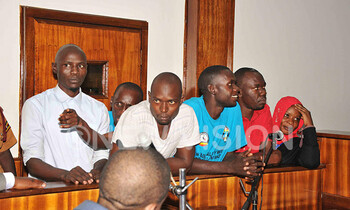 JUDICIARY

KAMPALA - Six people have been charged with three counts of inciting violence and contempt of court in regard to the last Friday attack on Buganda Road Court Grade One Magistrate Gladys Kamasanyu while sentencing Stella Nyanzi to nine months in jail over cyber harassment.

They are Simon Wanyera, Abdullah Waiswa, Augustine Ojobile, Joel Kabali, Fatuma Abenabyo, and Moses Katumba.

They appeared before Grade One Magistrate Stella Amabilis on Monday who read out the charges to them and all pleaded not guilty.

The group which is represented by Erias Lukwago and Isaac Ssemakadde also faces an alternative charge of malicious damage to property.

The offences contravene sections 83 (1), 107 (1) (a), and 335 (1) of the Penal Code Act.

State attorneys Mariam Njuki and Patricia Cingatho informed the court that investigation in the matter is still going on, prompting the magistrate to remand them until August 16 when the court is expected to rule on their bail application.

The prosecution alleges that the accused and others still at large on August 2, 2019, at Buganda Road Court incited court audience to do an act of violence against her worship Gladys Kamasanyu by reason of her office.

The accused also, within the premises of the court in which a judicial proceeding was being heard, showed disrespect in speech manner to reference of the said proceeding and the magistrate presiding by abusing her (Kamasanyu) with obscene words to wit that she is smelling like a vagina, throwing of a bottle of mineral water to the magistrate and making noise in court.

It is also alleged that Kabali, Wanyera and Fatuma and others still at large unlawfully damaged or destroyed walk detector machine, the property of Buganda Road Court.

Prosecution adds that Fatuma on the same date, commonly assaulted her worship Kamasanyu an act contrary to section 235 of the Penal Code Act.


RELATED STORIES