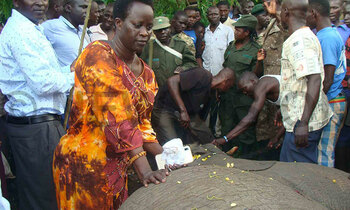 WILDLIFE
The Uganda Wildlife Authority (UWA) Game Rangers attached to Murchison Falls National Park on Friday shot dead a distressed elephant which was terrorising the community.
Rangers headed by Warden in charge Karumà wildlife Reserve, Wilfred Chemutai managed to put the elephant out of action after it became violent.
Chemutai said the elephant was injured and could not manage to go back to the National Park because the right leg got broken while crossing the road from Abang swamp on Wednesday night.
The elephant was shot dead in the area of Kokcan iKweri village, Pukica parish, Kamdini sub-county.
The incident happened on the day one Benson Omara, 37, a catechist killed by a stray elephant on Wednesday was laid to rest.
A herd of elephants estimated to be over 30 in number, from Murchison Falls National Park on Wednesday strayed out of the protected area and as they were being driven back, a female elephant moving with calf is said to have attacked the catechist who was on his way to his garden.
After shooting dead the elephants, UWA removed the tusk and left the carcass to be shared by members of the local community.
Community members mainly from Kokcan Ikweri, Lela A, Lela B, Puniatar in Kamdini sub-county and Zambia in Myene sub-county shared the carcass.
Oyam district Woman MP Santa Alum, chairperson LC5 Oyam DLG Nelson Adea , and Kamdini sub-county chief Geoffrey Okech witnessed the incident.
Santa Alum commended UWA for agreeing to put down the elephant which was terrorising the community.
Alum noted that for the last two days, children were not going to school for fear of being attacked by marauding elephants that had invaded the area.
Nelson Adea also commended the Executive director of UWA Sam Mwandha for taking a tough decision that the distressed elephant be put out of action after it was seen destroying property from homes in the area.
The Warden Community conservation attached to Murchison Falls National Park Wilson W Kagoro said sh2m was given as burial expense for Benson Omara who was killed by the elephant.
Motorist warned
Motorists have been cautioned to drive with care along the Karuma Kamdini Gulu highway as elephants are now following the road in order to avoid trenches dung as obstacles.
The LC3 chairperson of Kamdini sub-county, Sam Ogwang Alunyu said motorist especially bus drivers moving at night should take extra care as elephants are now moving along the road around Nora, between Karuma and Corner Kamdini to avoid trenches as they cross into community gardens.
UWA has dug trenches using excavators to deter elephants crossing into community farmland but the elephants, as clever as they are, are moving up to the main road as they avoid the trenches and cross into community farmland.