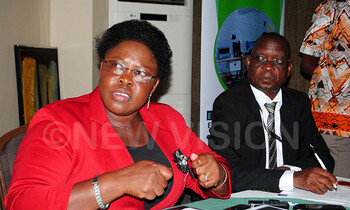 KAMPALA - In a bid to scale up breastfeeding across the country, Dr. Joyce Moriku Kaducu, the State Minister for Primary Health Care has revealed that Government is set to tighten regulations on maternity leave.



According to Uganda labour laws, female employees are entitled to 60 working days of fully paid maternity leave.

However, the minister said it emerged that some mothers were not utilising this leave to breastfeed and nurture their babies and instead engaged inside businesses.

Kaducu said some fathers who are also accorded four days of paternity leave, ended up misusing their days either by drinking too much alcohol or looking for other women.

"You may be asked to pay heavily either by cash or otherwise because you did not take leave for the right reasons," Kaducu warned, adding that a by-law shall be put in place to penalize working mothers who do not breastfeed their children.

She made the above remarks while launching the World Breastfeeding Week at Protea Hotel in Kampala on Thursday.

This year's theme is, "Empowering parents to enable breastfeeding".

Asked how this will be implemented, the minister said the Government will work hand in hand with community local leaders and women councilors at the village level to ensure that mothers heed to the call of breastfeeding their children.



Men producing more children during paternity leave

Speaking at the event, Nuluyati Nabiwande, the Principal Labour Officer at the Ministry of Gender Labour and Social Development said she got complaints from mothers who said their husbands stayed away from home during their paternity leave.

"Women told us that their husbands went out to produce other children during this leave and never got any form of support from them," she said.

Sagging breasts

Regarding breastfeeding, Nabiwande said some mothers confessed that they shunned the act because they wanted their breasts to remain firm, which reason she said was totally outrageous.



Why breastfeed?

Breastmilk gives babies the best start in life because it contains all the essential nutrients and water the baby needs to grow and stay healthy.

It also has enormous benefits for the baby, mother, and the entire nation. Children who are breastfed are less likely to suffer from childhood illnesses and can attain better school outcomes.

Breastfeeding also helps mothers bond with their babies, be more relaxed and are more likely to delay the next pregnancy.

Whereas breastfeeding is critical, the increasing participation of women in work outside the home has greatly affected their ability to breastfeed optimally.


The Uganda Demographic and Health Survey, 2016 reveals that breastfeeding of babies under six months decreases with the age of the baby.

Six out of 10 babies aged two to three months were breastfed exclusively while only four out of 10 of infants aged four to five months were given breast milk only largely because at this time, many mothers have resumed work.

It is against this background that Nabiwande called for the creation of breastfeeding corners in all workplaces to allow mothers to continue breastfeeding their babies.


RELATED STORIES