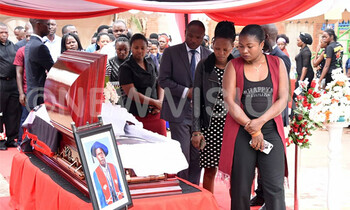 TRIBUTE

KAMPALA - Tributes have been paid to Dr. Robert Jjumba, the former CEO of Uganda Young Men's Christian Association (YMCA), who passed on in Lisbon, Portugal, on July 24 (2019), at the age of 63.

According to Dr. Herbert Mukasa, the Principal of YMCA Comprehensive Institute, Wandegeya, Dr. Jjumba died suddenly. The duo had travelled to Lisbon for official engagements.

Jjumba's eulogies were delivered during the funeral service at YMCA Comprehensive Institute, Wandegeya, on Thursday morning.

Among the mourners that spoke highly of Jjumba was his brother Robert Jjumba, who described him as a passionate educationist and skilled administrator."

"He began as a private teacher at Mamagoma UMEA. He later went to Kyambogo and did a Diploma in Education. Subsequently, he joined Trinity College Nabbingo, where he taught History and Geography. Owing to his leadership disposition, he was appointed headteacher of Kiwawu SSS. While there, he did wonders. When he joined YMCA, he offered even greater leadership, which enabled the institution to grow tremendously.

"Even in the family, Dr. Jjumba has been a great leader. He became our parent even when our parents were still around. Whenever we get a conflict, he would swing in as a leader and pacify the situation. He was a great leader, a brave fighter. He was a mentor, counselor, guide and friend to all."

Janet Kyemba, who spoke on behalf of YMCA Jinja Branch, described Dr. Jjumba as a talented education administrator, who made a great landmark in the life and history of YMCA.

"He elevated Uganda YMCA from a dependent to a self-sustaining institute. During his administration, the number of students, at all the branches, shot up wonderfully. He was a visionary leader. He knew what he wanted for YMCA, and where he wanted to take it. He minded mentoring the staff-members. He had a big heart for all people. He was always fair in his administration. He never ignored any branch. If he saw any branch limping, he would go with other administrators end give encouragement to the staff members. That is what he did with the branches at Kasese and Mbale. He was indeed a strategic planner," Kyemb said.

Dr. Mukasa (the Principal of YMCA Comprehensive Institute, Wandegeya) broke down as he struggled to eulogize Dr. Jjumba.

"It was a great opportunity for me to work with Dr. Jjumba. He made and shaped Uganda YMCA. He also linked YMCA fraternity to his family."

Others who eulogized Jjumba included, among others, the Institute's Chairman, Dr James Nkata.

The function was also graced by the wife of the deceased, Carol Namukwaya Jjumba, children, relatives, friends and several members of the Uganda YMCA fraternity.

Dr. Jjumba will be laid to rest at Nkokonjeru, Kyengera (Masaka road), in Wakiso district on Saturday, July 3.