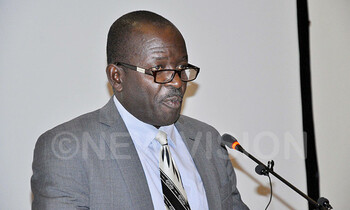 KAMPALA - Uganda is host to over 1.2m refugees, mostly from the conflict-ravaged neighbouring countries of South Sudan and DR Congo.
Speaking on Thursday at the 3rd breakfast policy series on the National Development Plan III (NDPIII), Dr. Ssali Simba Kayunga, a political science lecturer at Makerere University said that Uganda should be funded to foster peace and security in the region and ensure that refugees influx in the country stops.
"Uganda should be facilitated to enhance peace in countries that are war-ravaged, where refugees come from. So that these people (refugees) can go back to their countries," he said.
He was the guest speaker at the public engagement on promoting good governance for the socio-economic transformation of Uganda. The series, which are five in total, are organised by the National Planning Authority (NPA) in partnership with UNDP.
NDP III comes in to replace NDP II which is expiring in June 2020. Views got from the discussions will be fed on to the formulation of the NDP III, which is expected to be finalized by September this year in order to guide the 2019/2020 budget process.
Ambassador Paul Mukumbya, the head of department regional peace and security, ministry of foreign affairs noted that though Uganda is largely peaceful, secure and stable, this security cannot last long when the neighboring countries are insecure.
"We need to ensure that those countries are secure too," he said.
He noted that though Uganda has a good foreign policy, is subscribed to a number of regional engagements and bilateral frameworks where they hold meetings on social, economic and security issues, the funding to pay their membership in these regional bodies is inadequate.
"NDP III should ensure that there is enough funding for our foreign policy. We have got to pay our contributions to these organisations. Currently, we are in arrears and in some of the meetings, we have not been allowed to speak," he said.
He also called on the UN to support regional efforts in ensuring that there is peace and security.
The meetings are organized to give a platform to Ugandans to give their input on what they want the NDP III to address. Among some of the issues raised during the 3rd breakfast, series include improving the productivity of Ugandans
Prof. John Munene argued that there is no way an economy can be transformed if the concept of labour productivity is not addressed.
Other issues raised include stopping the duplication of services and merging institutions that provide the same service, for instance, the Uganda Investment Authority and the Uganda Exports Promotions Board, ensuring equitable taxation rates and publishing tax defaulters in a transparent manner, and increment in funding for the local governments.