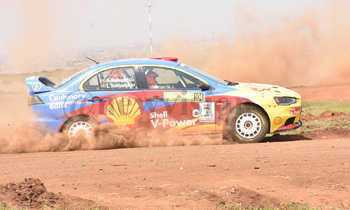 Leon Ssenyange and Ronald Ssebuguzi are looking for 140 points to boost their chances of winning this year's championship.
"Our major target is to get 140 points. With that, we are good to go," Ssenyange said
The Shell Vivi Energy Uganda sponsored crew is leading the championship with 240 points, 60 points ahead of second-placed Hassan Alwi.
The navigator believes driver Ssebuguzi is ready for the challenge and has no worry of rival drivers such as Manvir Baryani and Dharam Pandya, Arthur Blick jr, Ponsiano Lwakataka, Jas Mangat, Dr.Ashraf Ahmed, and Duncan Mubiru. Leon is positive that the Kenya Safari rally experience will play a vital role for them.
The Pearl of Africa rally gets underway this Friday in Busika at the Motorsport Arena with a 4.36 kilometer super special stage before continuing to Kayunga district for a 96.18kms rally.
The four stages include Kitwe section 19.9km, Shiekha Metha (22.35km), Lwasa stage (24.8km) and Adel Stage (29.13km)