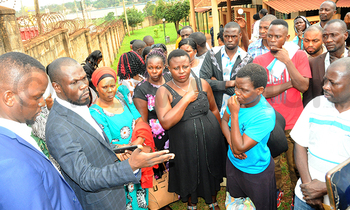 The High Court has summoned the administrator of the late Paul Katabazi Bitarabeho's property, to appear in court to explain how the land was sold to the people of Lusanja.
The land in question measuring 3.89 acres, which Medard Kiconco claims he bought, is part of the 85 acres that the late Bitarabeho bought in 1978 from the late Namasole Bagalaayeze Lunkuse, the mother of former Buganda king, Mwanga.
Today, the court presided over by Tadeo Asiimwe, also summoned three land surveyors, who made reports concerning the disputed land.
"The surveyors should come to court on Friday so that we can hear their testimonies about the report," she said.
They are Ronald Bwire, Denis Asiimwe and Henry Sembajjwe. Bwire is the Kampala City Council Authority (KCCA) surveyor, Asiimwe is a surveyor for the people of Lusanja while Sembajjwe is for Kiconco.
Justice Asiimwe issued the directive after Irene Birungi Mugisha, who works as a private secretary for administration in the Office of the President testified in the case in which businessman Medard Kiconco accuses Lusanja squatters of trespassing on his land.
On January 12, 2017, Kiconco filed a suit at Nabweru Chief Magistrate's Court, seeking orders for abetment of a nuisance, demolition order, and delivery of vacant possession, permanent injunction and award of damages plus costs of the suit.
The former Chief Magistrate Esther Rebecca Nasambu heard the matter experte (without the defendants filing a defence).
On October 3, 2017, Nasambu delivered judgment with orders declaring the defendants as trespassers, demolition of structures and sh20m in damages plus costs of the case.
It is upon this ruling that Kiconco went to the High Court's execution and bailiff's division and secured a demolition order from deputy registrar, Baker Rwatooro on August 23, 2018.
On December 14, last year, John Eudes Keitirima ruled that the residents were wrongfully evicted from Lusanja land because the trial magistrate had no powers to handle the case.
However, he advised any aggrieved party to institute a substantive case before a right court for trial, which Kiconco did.