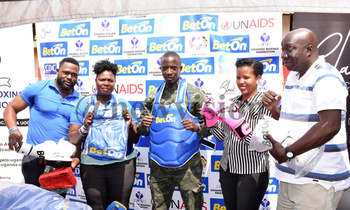 Uganda Boxing Federation (UBF) is determined to take the sport out of Lugogo to the different parts of the country.
For this reason, this year's National Novices starting on August 1 to 8 in will be held in Kamwokya at Kira Road Police station ground.
UBF president Moses Muhangi confirmed the development after receiving boxing equipment worth sh45m from Beton Uganda at Lugogo on Monday.
"Boxing is a sport for the Ghetto people and we are going to give back to them by taking the sport near them," Muhangi noted.
He added that UBF will also be training Aiba star one referee judges who will do theories and practical lessons during the national novices.
"We started with Bwaise, went to Katwe and now we are in Kamwokya. We shall be heading soon to Gulu and other parts of the country," Muhangi said.
He received bodyguards, gloves, headgears and punch pads which will be given as prizes to the different winners in the different categories.
Muhangi said that Lugogo Indoor Arena is too small for the growing crowd, and that is why they have decided to take the sport to open places.