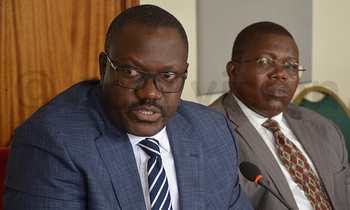 Ministry of Information and Communication Technology were on Wednesday put on the spot over the failure to absorb sh2.9b in the financial ending June 2018.
Members of the Parliamentary Public Accounts Committee asked the ministry's Permanent Secretary, Vicent Bagiire to explain why the money was returned back to the consolidated yet it was appropriated for in the budget.
"The funds were meant to be expended on wages of technocrats that were never recruited in time," Bagiire said while appearing before the committee on Wednesday.
He added that payments were also cancelled because they were being discharged on items that had not been budgeted for.
The legislators asked that he submit a schedule indicating the sh2.9b payments which were cancelled and also wanted to know what the mischarge was.
"You budgeted for this money. Why didn't you implement the activities that you had for," Okin Ojara (Chua County West) asked, unsatisfied with Bagiire's explanation.
Tonny Ayoo (Kwania County) expressed appreciation of the fact that the entity avoided committing a mischarge.
"This is the first entity that we have interacted with that avoided committing a mischarge, which is very rare," Ayoo said.
In light of this development, MPs Okin Ojara and Anita Among tasked Bagiire to justify the need for the ministry to be given a bigger budget if it is having problems absorbing funds.