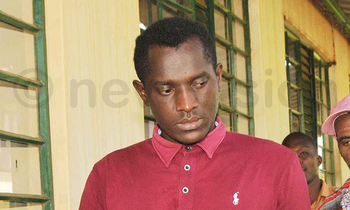 Court has further remanded a Kyambogo University student, accused of killing the Superior General of Brothers of St Charles Lwanga, Norbert Emmanuel Mugarura, to Luzira Prison.
Robert Asiimwe's remand followed submissions by state attorney Justine Feni, who informed the court that investigations into the matter are still on-going.
Nakawa Court Grade One Magistrate Fiona Shelia Angura remanded the accused, until August 2, when he will re-appear in court for mention of his case.
Asiimwe is battling charges of murder, contrary to section 188 and 189 of the Penal Code Act. The offence attracts a maximum sentence of death, on conviction.
The prosecution alleges that Asiimwe and others still at large on July 2, 2019, at Banda B9 zone in Nakawa division killed Mugarura with malice aforethought. Mugarura was Asiimwe's mathematics teacher at St Charles Lwanga, Kitabi.
Mugarura was found dead at the students' hostel at Kyambogo University in a room rented by Asiimwe.
Mugarura is said to have been hacked with a machete several times. The machete has since been submitted to the Government Analytical Laboratory for further analysis.
Arrest
Asiimwe reportedly negotiated a fee of sh70,000 with a cab driver to drop the 'rubbish'— a term he used, to dispose of the decomposing body wrapped in a blue tarpaulin.
He advised the special hire driver to take advantage of the darkness (load shedding) to dispose of "the rubbish".
However, the driver and his men then offered Asiimwe a lift to go and pick the money but instead drove him to Banda Police Station, where he was arrested.
Police
Earlier, Asiimwe recorded statements from Kyambogo and Jinja Road Police stations, respectively.
In both statements, he claims that he committed the offence under gunpoint but he failed to name who placed him on gunpoint.
However, in a third statement recorded at Kireka, he claimed that he had been a victim of sexual harassment since Senior Two. Doctors, who examined Asiimwe's mental status, said he was normal.
Mugarura's final hours according to Rev. Bro. Dominic Kagoye, the spokesperson of Bannakalooli Brothers, left Kiteredde in Kyotera before the fateful night with Bro. John Baali for 'special duties' in Kampala, where he was to visit Nsambya and Namugongo Brothers' communities.
Mugarura is said to have made a stop-over at Rubaga Social Centre, where he met Bro. Simon Peter Nalintya, before heading to Christ the King Church in Kampala.