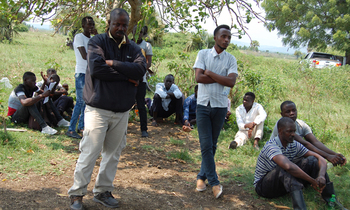 DR CONGO FARMING RIVE SEMLIKI NTOROKO
The Congolese traditional ruler for Mitego Kingdom Albert Rutahaba Ibanda has asked the Ugandan farmers who have been cultivating in the Democratic Republic of Congo to halt their activities after accusing them of trying to annex part of the land to Uganda.
Several families living in Bweramule sub-county Ntoroko district cross River Semuliki which forms a natural boundary between the two countries of Uganda and Congo to cultivate crops.
William Businge, one of the affected farmers, said on Friday that the king ordered them to leave after receiving information that they where annexing part of an island on River Semuliki to Uganda.
"We have been cultivating in Congo for very many years and some of us have families across the river. The river has been changing it's course due to human activities and part of our land now belongs to Congo and that is causing confusion between the communities living on both sides of the river," Businge said.
Businge said he has been forced to abandon four acres of cassava, two acres of maize and beans in Mitego.
"King Rutahaba is very powerful in Congo and if he makes an order, everyone has to comply otherwise he will throw us in jail," Businge said.
Gloria Musiime, a single mother of four, said she has been cultivating on the other side of the river for over 20 years and now she has been forced to leave.
"We don't have any hope our crops have been seized and we cannot go back to the land because the order has already been made," Musiime said.
Musiime admits that the island belongs to the other side of Congo. However, due to poor cultivation methods by some farmers, it had started floating to Uganda.
"It's true the island belongs to the territory of Rutahaba in Congo, but some of the farmers due to bad methods of farming have led to it's floating," Musiime says.
William Gamukama, the LC3 chairman for Bweramule sub-county, said they are arranging to engage Rutahaba to change his decision.
"We are greatly concerned about the people who have been chased from Congo together with the district leadership we are arranging to meet King Rutahaba and find a lasting solution to the problem.
Gamukama said over 40 farmers who have been cultivating in Congo have been affected by the king's order.
Timothy Kyamanywa the LC5 chairman for Ntoroko said the district leadership was aware of the challenges, but they are yet to meet the king.
"All the land-related problems on the two sides of the countries are caused by River Semuliki, which has been changing it's course over the years and experts say every year, the river enters Uganda by at least one kilometre and all that land is lost to Congo.
Kyamanywa says in the eastern part of Congo, King Rutahaba Albert Ibanda Kituku II of Mitego Kingdom is very powerful and his order is the final.
Abanyamitego community have the same clans as the clans of Toro and most of them are involved in crop farming and cattle keeping as there main economic activity just like the people of Toro.
However, King Rutahaba told New Vision in an interview that he was provoked by the Ugandan farmers who wanted to annex part of his land to Uganda.
"Last week as I was at my palace, I received information that a group of farmers was cultivating on our island. I sent my soldiers to go and find out and after a short time, I organized over 200 of my men and we also set off to find out, only to see people crossing the river in a canoe going to Uganda," Rutahaba said.
He says he was ready to meet with the delegation from Uganda to find out how he can help the farmers do there work without tempering with his land.
"I don't want to be dragged into there cheap politics. There are some village leaders from Uganda who are involved in that. I am ready to meet with the delegation from the district and see how to help them because they have been cultivating in Congo for very many years," Rutahaba said.