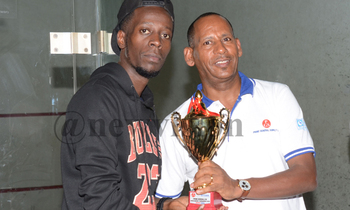 Ian Rukunya beat Paul Kadoma 3-2 in the final to retain the Prime General Supplies (PGS) squash tournament played at Kampala Club on Saturday.
But the defending champion had to dig deep and rode his luck to fend off the hard fighting Kadoma who trailed by two sets but rallied to send the game to a five-set thriller that kept fans on their toes.
Rukunya took the first and second sets with a similar 11-6 score before Kadoma won the next two sets, 11-6, 11-5 to the excitement of fans of both camps.
Kadoma could only chess up to the 7th point in the last set as Rukunya registered back to back wins in the 7th edition of the annual tournament.
"It is pretty obvious it wasn't easy because I could have finished it in three sets but he played well and pushed it to five so big up to him; it was really hard work. He came back fighting and playing better but I also had a lapse and handed him the next two games," Rukunya noted.
Prime General Supplies' Kifle Degefa (center) poses with the different winners and runners-up pose with their trophies after the PGS Squash tournament at Kampala Club, July 28, 2019
Having finished second earlier on in the Nairobi club invitational in May, Rukunya will now look to upcoming events like the Nakuru and Parklands opens with more enthusiasm.
Kadoma said he was just unlucky not to win the event. "It was a good match because I was also fit but it was his chance today. It is not easy to chase two games but I managed to close him down but he had better luck," Kadoma said.
Jane Frances Nabanoba who also took the best upcoming trophy beat Patience Ankunda 3-2 to win the ladies round-robin contest where Jowelia Mpomba finished third.
Riaz Jamal won the 50+-year-olds contest while Lawrence Matovu won the plate event after a 3-1 win over Musa Matovu.