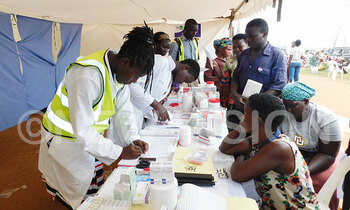 HEALTH INFRASTRUCTURE

KAMPALA - Are you residing along any major roads under construction? You should be careful because diseases along the highway especially Sexually Transmitted Diseases(STDs) are on the rise.

According to the medical personnel contracted by Uganda National Road Authority(UNRA) to provide mobile medical services to communities living along the Kampala Northern bypass say STIs are some of the common problems.

A health worker from Naguru Teenage Centre Evelyn Agineg said STDS are top on the list of diseases that they have been treating since 2015 when the project started.

During a health camp and sensitization at Kalerwe, Agineg explained that sex workers usually take advantage of road construction and engage in sex activities with the site workers.

The executive director of Family Rescue Initiatives-Uganda ( FRI-U), Jane Mwirumubi, revealed that the increase in STIs is partly because of the less sensitization among the communities.

"The reason we are here is to carry out sensitization among the communities especially on HIV/AIDs, Hepatitis B, safety on the road and child protection among the host communities," Mwirumbi explained.

She said in partnership with Mota-engil and Naguru Teenage centre, they have been carrying out sensitization around Busega, Namboole, and Gayaza road among other routes.

Mwirunbi said labour migrants who work with contractors take advantage of youth who are out of school, women, and children.

"These workers have multiple sexual partners. We target youth, women, and children who are vulnerable," she said.

When there is road construction in any area. There is usually prostitution because sex workers tend to migrate with the contractors in search of clients.