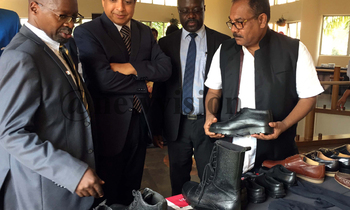 Very few materials possess the durability and prestige of leather products. A high-level delegation of producers and manufacturers of a wide range of leather products and accessories from India is in Uganda to seek out joint venture partnerships to benefit the economies of both countries through the leather business.
Aqueel Ahmed Panaruma, the chairman of the Council of Leather Exports of India (CLE) who leads of the delegation of 12 Indian businesses pointed out that the visit is a major milestone in efforts to explore opportunities for investment in Uganda's Leather Sector.
Speaking on behalf of Michael Werikhe, the state minister in the ministry of trade, industry, and cooperatives, Emmanuel Mutahunga, commissioner for external trade noted that Uganda has about 10 tanneries that are open to joint ventures to export to India.
"We are not close to the sea, but we are close to the market. We have a market of about 44.8 million Ugandans. We are also part of the East African Community (EAC) and the Common Market for Eastern and Southern Africa (COMESA); the market size is very compelling," he said.
The Indian leather industry is one of the largest in the world and accounts for around 12.93% of the world's leather production of hides/skins. Total leather good exports from India stood at $3.05 billion during April-October 2018.
Ravi Shankar, the high commissioner of India to Uganda and Burundi noted that although India exports so much leather products and accessories, it is still a major consumer as well.
"India wants quality products and Uganda produces very high-quality leather. Although the market in India is very big, it is important for Indian companies to get a foothold in Uganda where the population is expected to reach 75 million in the next 20 years," he said urging for Ugandan manufacturers to reciprocate the visit of the Indian delegation by visiting India.
The delegation held roundtable meetings on investment, Business to Business interactions (B2B) as well as Business to Government interactions are being held at Golf Course Hotel, Kampala.
The delegation also visited selected tanneries and leather processing facilities in the country.
Abdul Hakim Sekandi, the Uganda leather, and allied industries association (ULAIA) chairman said that the meeting and possible joint ventures will bolster the capacity of local tanneries to add value to raw leather.
He also decried a 10% East African Community (EAC) common external tariff on leather products that will come into effect in 2020. He noted that the local leather industry still needs up to 2023 to secure capital, machinery and skilled labour to compete with regional players.
The meetings and field visits are taking place under the framework of the United Kingdom funded SITA project. The project is being implemented by the UN/WTO International Trade Center (ITC) in five East African Countries.
Ben Naturinda, the SITA national coordinator for Uganda noted that semi-processed leather is by far the most important leather product exported by Uganda worth $53.12m (about sh196.2b) in 2017, most of which was in the form of wet blue semi-processed leather.
"The problem for Uganda is that more than 40% of the hides and skins produced in the country are exported in raw form. This leads to loss, in terms of foregone revenue (taxes, foreign currency earnings, jobs, and other indirect benefits, resulting from the lack of value addition," he noted.
He noted that Uganda is one of the biggest exporters of leather in Africa. In 2017, it ranked fourth for the export of behind Ethiopia (3rd), Egypt (2nd), and South Africa (1st). For the export of leather articles, Uganda was in 13th place behind Côte d'Ivoire (12th) and Ghana (11th) while for footwear it ranked 11th in Africa.
The SITA project invests in enterprises to enhance their competitiveness to produce and export goods that match overseas market requirements; support technology transfer and know-how; exposes EAC companies to overseas markets and attracts investment into value-addition segments of leather, cotton, Pulses, oilseeds, spices and coffee value chains