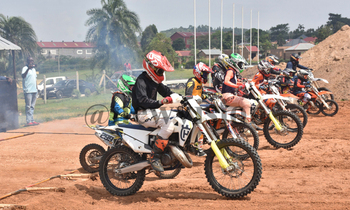 The national team has started training for the FIM Motocross of Africa Nations (FIM OAN) due in August 31 to September 2 in Zimbabwe.

However, Team Uganda will need sh192m to be able to take a full squad of 34 riders if they are reclaim the trophy last won in 2012.

The Federation of Motorsport Clubs of Uganda (FMU) deputy vice president in charge of cycling Barak Orland believes that Uganda needs to take a full strength in order to compete against teams such as South Africa, Zimbabw and Zambia.

"We have a very strong team, but it can only win us the title if we manage to take a full squad to Zimbabwe," Orland said.
Wazir Omar training at Busiika
"We are looking for $52,000, (Sh192m) to supplement what we have, to be able to cover registration of riders, medical, accommodation and transportation of riders with their bikes from Uganda to Zimbabwe and back."

Orland explained that each rider will pay $230 which totals to $7, 820 (sh28.9m), then the rest will go on accommodation and transport.

"The parents who have invested in the bikes are servicing them, incurring training costs and we appeal to the government to come in and give us the push that motivates these young boys and girls that will fly Uganda's flag high," Orland said.

FMU secretary Joseph Mwangala added that other riders are training outside the country, but will all later train together before departure.
Some of the National motocross members that started training on Sunday at Busiika
Deputy team captain Asaf Natan explained that they expect to field five riders in each class including MX50, Veterans and 65cc, seven in MX125cc, three in MX2, ten in MX10, three in the ladies and one in the MX1 class.

Last year, Uganda finished fourth overall and will be out to challenge Zambia, Zimbabwe and defending champions South Africa.