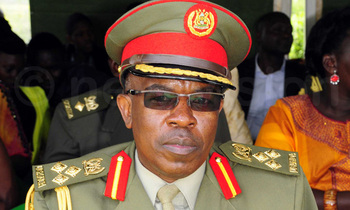 Brig. Richard Karemire
Over 40 people believed to be Rwandan nationals have been arrested in Kampala during a joint operation by security agencies.

The arrest took place in a church in Kibuye, Entebbe Road. The church's membership is reportedly only Rwandans

Security cordoned off the place as the group held a meeting and ordered them out into a waiting van.
Kampala Metropolitan Police Spokesperson Patrick Onyango says the Police played a supportive role during the operation, which was carried out by soldiers.

UPDF spokesperson, Brig Richard Karemire, could not give any comment saying investigations are going on.
Uganda and Rwanda have had frosty relations with Rwanda accusing Uganda of hosting elements opposed to the regime in Kigali, while Uganda accuses Rwanda of sending spies into the country.

The bad blood between the two countries came to the climax when Rwanda closed its border and blocked its nationals from crossing to Uganda.

For weeks, trailers of goods were stuck at the border and Rwanda rejected all goods that originated from Uganda, while allowing those that were destined for DR Congo.

Two weeks ago, Presidents Yoweri Museveni and Paul Kagame met in Angola in a meeting that was called by the Angolan president João Lourenço and attended by the newly-elected Congo president Félix Tshisekedi.