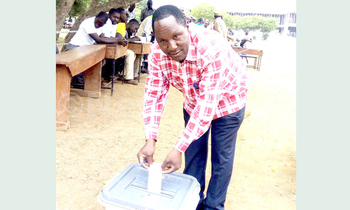 ELECTIONS
The election of interim chairpersons for the seven newly created districts is set to take place on Thursday.
The date was earlier set during the press briefing by the vice-chairperson, Electoral Commission, Hajjat Aisha Lubega Basajjanaku on July 9, 2019, at the EC headquarters.
The seven districts that came into effect on July 1 2018 include Madi-Okollo, which was created out of Arua district; Karenga, which was created out of Kaabong district; Kalaki, which was created out of Kaberamaido district; Kitagwenda, which was created out of Kamwenge district; Kazo, which has been created out of Kiruhura district; Rwampara, which was created out of Mbarara district and Obongi, which was created out of Moyo district.
Similar elections will also be held in two other newly created districts of Bugweri created out of Iganga district and Kikuube created out of Hoima district. The date for the two districts was later confirmed in a press release on July 16, 2019, by the chairperson, EC Mr. Justice Byabakama Mugenyi Simon.
The elections will comprise of district directly elected councillors and district women councillors representing the electoral area forming new districts. However, the date for elections of members of parliament in the newly created districts has not yet been released.
Voting is scheduled to start at 9:00 am at the headquarters of respective new districts, and by Electoral College and secret ballot.
Residual elections for chairpersons in the 149 villages and 13 parishes are also slated for today. This occurred due to tie-ups in some of the villages leading to postponements, resignations of elected chairpersons, and violent conduct leading to the destruction of election material.
The EC conducted the elections of village local council and Parish Chairpersons on July 10, 2018, and July 27, 2018, respectively, however, the above circumstances called for residual elections.
The program for the residual elections of these villages and parishes started on July 18 with verification of residents and compilation of the village voter's register and shall close today with the declaration of winners and approval of executive by the village council meeting.
The EC has allocated 19.1m to facilitate the elections in the newly created districts and 71.545m for the villages and parishes.