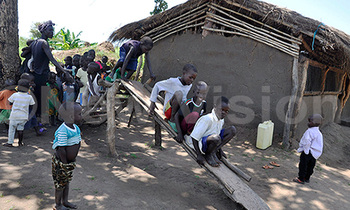 EDUCATION

KOBOKO - While many other parents or communities would be begging the government to establish a school in their communities, the residents of Jiro village in Kuluba Sub County, Koboko district took the matter in their own hands.

Parents in this Village have resorted to constructing a school in order to help their children have an education.

The Village located 40 Kilometres from Koboko town has no nursery, primary, or secondary school; hence for children to have access to education, they have to walk more than six to ten miles.

John Buga, the area LC1 chairman says that they have been abandoned by the government that is why as a community they decided to mobilise amongst themselves to construct a school.

He explained that one resident donated land, then the others volunteered to bring any form of material that can help to put up infrastructures. The parents also constructed latrines.

At the time New Vision visited the village last week, the parents were busy roofing the mud and wattle classroom block that will house an Early Childhood Development Centres (ECD) and primary.

"The school will start from nursery to primary three and after we shall keep on adding a class every year. The district leadership has always promised us community services during campaigns but after they don't fulfill their pledges," he stressed.

Mary Yakulya, mother of five says that most of her children do not go to school because of the distance. Children have to wait until they are ten years before they start going to school.

According to her, this is not good because tomorrow these are the children who are going to become a problem to the community.

"As a community, we have constructed the school so we call on the government to give us a hand because all these children are Ugandans," she said.

She explained that now that they are starting a primary school, they will also need a secondary school.

To help with the training of teachers, Literacy and Adult Basic Education (LABE) is helping the community to train parents to become teachers.

Richard Opio, acting team leader LABE Northern Uganda says they decided to train the parents to become teachers because they could not afford to hire professional teachers.

"We believe the Parent educator will play an important role in the school," he said

Unlike in many schools were children play using modern materials, here parent's have improvised play materials using local materials such as trees, old car tires among others.