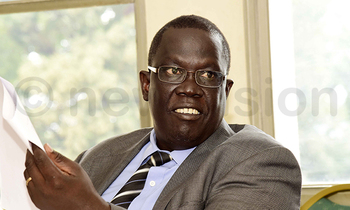 The National Environment Management Authority (NEMA) has received the environmental and social impact assessment (ESIA) study report for the development of the crude oil pipeline.
The study was carried out to establish the potential positive and negative impacts that could arise from the development of the 1,445km pipeline from Hoima to Tanga seaport in Tanzania.
The study also proposes measures that can be pursued to mitigate or minimize the potential negative impacts of the project. The pipeline will move crude oil from the planned Kabaale Industrial Park in Hoima to a storage facility and offshore tanker loading platform at Tanga.
NEMA received the report from Total East Africa Midstream. The project will be funded by the joint venture partners in the oil sector in Uganda; Total E&P, Cnooc and Tullow. NEMA is now inviting the public to read the report and submit feedback. The contribution from the public is expected to enrich the final document.
The East African Crude Pipeline (EACOP) will traverse ten districts in Uganda; Hoima, Kikuube, Kakumiro, Kyankwanzi, Gomba, Mubende, Lwengo, Ssembabule, Kyotera and Rakai.
Only 296km of the pipeline will be inside Uganda. The 24-inch-diameter pipeline will be buried and insulated, with an electrically heated cable on it. This is intended to keep Uganda's waxy oil warmer to be able to flow through the pipeline.
The facility will comprise two pumping stations, 19 valves at key stations where the oil flow can be reduced or stopped and four power substations to supply electricity to the pipeline. Others are 6.8km of new and upgraded
permanent access roads, 8.3km of new and upgraded temporary roads for delivering construction materials, for main workers' camps and pipe yards.
In a press notice published on Tuesday, the environmental authority said copies of the ESIA are available at its library, Petroleum Authority of Uganda, Uganda Wildlife Authority, National Forestry Authority, National Library of Uganda, Makerere University Library, Kyambogo University library and Hoima public library.
They can also be found at Uganda National Oil Company, ministries of water and energy and the local government headquarters in the districts to be traversed by the pipeline.
An electronic version of the same, according to the environmental watchdog, is now also available at the websites of (NEMA), Petroleum Authority of Uganda, Uganda National Oil Company and Total East Africa Midstream.
"Members of the general public and persons specifically affected by this project are encouraged to scrutinize and submit any comments/views on the EACOP ESIA report……by August 30," NEMA stated.
The comments should be addressed to the NEMA executive director.