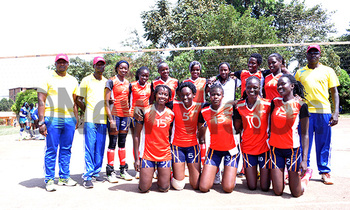 VOLLEYBALL

ENTEBBE - Nkumba University Volleyball Club (NUVC) ladies team for the past three years has been outstanding in both local and international volleyball events, they have participated in.

NUVC ladies who are the defending championships of the NSSF KAVC International Volleyball tournament the biggest volleyball event in Uganda have vowed to retain the title again this year.

"We always yearn for victory which calls for hard work and proper preparation for each game we play, different teams have prepared for the event but we are not afraid because we are ready for them," optimistic NUVC team captain Doreen Akiteng said.

Winning has become part of the NUVC ladies who have so far won every game and open tournament they have been engaged in this year.

They are also the Genocide Memorial Volleyball Tournament champions after retaining the trophy last month in Rwanda.

Despite their poor performance at the All Africa Club Championships that left them ranked 15 from 9 in Africa volleyball club championships, the Entebbe ladies still dream big.

Habiba Namala the two times consecutive league MVP, Atreede Agaba and Flavia Nandawula are the Nkumba main stars to watch out for.

The NSSF KAVC international volleyball tournament will take place at the Lugogo indoor and hockey grounds, starting on August 2 to August 4.