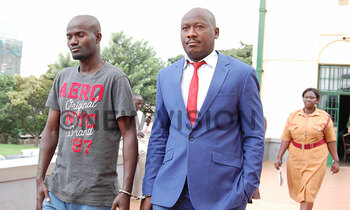 CRIME MURDER
Two men have been sentenced to 30 years in prison for killing 19-year-old Colombian student, Andrew Gatare.
Gatare was killed on the New Year eve of 2015, shortly after watching fireworks outside Kampala Serena Hotel in Kampala. He was buried at his ancestral home in Karambi, Ntungamo district.
At the time of his death, Gatare was pursuing a bachelor's degree in mechanical engineering at Columbia College in Canada and was in the country for the holiday when he was killed in cold blood.
On Monday, Justice Flavia Anglin Senoga handed the sentences to Ronald Mutebi, 34 and Geoffrey Lubwama alias Jeff, 32, after she found them guilty of murder and aggravated robbery.
In her judgment, Senoga considered the five years period the accused have spent on remand at Luzira Prisons.
"The convicts deliberately targeted the victim because of his money and phone and I, therefore, sentence them to 30 years in jail on each count. The sentence will, however, be served concurrently," the judge ruled.
Justice Senoga observed that the convicts orchestrated a plan and left their homes to target people to enrich themselves, which resulted in the killing of the innocent young man.
"We should learn that wealth is obtained through hard work and not by committing crimes. This sentence will send a message to the public and the would-be offenders that crime does not pay," she said.
Also related to this story
Two convicted over murder of university student