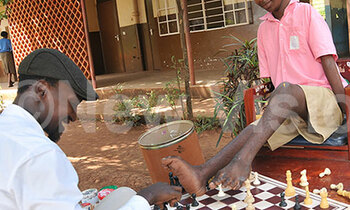 HANDICAPPED

KAMPALA - John mwesige may be handicapped but is a multi-gifted youngster with a bright future ahead of him.

Born 15 years ago to Jane Gladys Kanogire of Gayaza in Kampala, he was abandoned in Bakateyamba orphanage in Nalukolongo, Kampala where he grew up.

This happened after his father separated with his mother before he was born living his mother hopeless but with only one solution of abandoning to an orphanage.

However, Mwesige's star didn't dim because at one year old he was able to get a white sponsor who took him to Kampala School for the Physical handicapped.

He was also able to reunite with his mother while in P.3 and they stay together in a small rented house along Gayaza road.

Mwesige's time at the school of the handicapped has helped him blossom into a multi-skilled child who not only excels academically but a very good artist, chess player, and computer wizard.

He is just in primary seven but has excelled in all these fields perfectly.


"I developed an interest in painting and playing chess in primary four. We had different teachers and coaches who always came and taught us how to play chess and even make better paint pictures," he said

Mwesige is among the disabled pupils who represented Uganda at last year's world disabled children chess championships in America.

He also got many accolades after participating in Kampala exchange culture gala recently.

Mwesige performance in class speaks for its self since he has been topping his class for five years. His favorite subjects are science and English and wants to be a scientist in the future.

Joy Mwesigwa the school director says that mwesige is a hard-working boy despite being abandoned at the tender age. "He has learned to live by himself and utilize what he has at hand.

He is a talented young man who quickly studied his situation and has used it to climb higher, "she said.