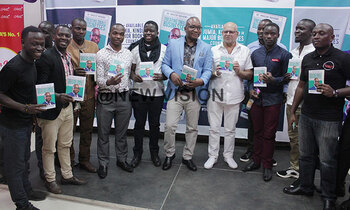 Treating Small Businesses by businessman Innocent Nahabwe has been the talk since the start of the month. The book has received rave reviews from various opinion leaders in business, mostly on social media.
With the reviews raising anticipation for its launch, it didn't come off as a surprise that the launch on Friday evening at Kingdom Kampala attracted an audience way beyond the typical literature community.
The audience wasn't the typical authors and readers that make various local literature events; it was folks from the social, entertainment, media and marketing circles, the fields Nahabwe has grown to be known for.

Perhaps the biggest attraction to this event, which the reviews also underlined, was the profound lessons from Nahabwe's business journey. And the lessons would manifest from the various speeches at the event. A trained veterinary doctor who has found success in business, Nahabwe is a jack of many trades. And if past experience is anything to go by, he is a master of most he lays his hands on.
In his 292-page book, Nahabwe takes the readers through his journey in the murky waters of business; from starting out a rookie as a journalist with different media houses to breaking the mold and entering self-employment and entrepreneurship. The self-published book talks about the opportunities and challenges, as well as the many businesses he has started, the turbulent times and the lessons he learnt to develop his business acumen.
All these were discussed at the launch, which was graced by various business people, including Sudhir Ruparelia who was the chief guest.
Speakers talked about Nahabwe's resilience and hard work. Arinaitwe Rugyendo, a media business proprietor, commended Nahabwe for enduring through tough times to build a business; something he said should be a lesson to the young people. From the audience, people talked about different lessons the book teaches them, such as multitasking, consistency and mentoring other people.
Another interesting topic was dealing with partnerships, which Nahabwe has mastered that many of his businesses are partnerships. Speakers, including Ruparelia admitted that partnerships are difficult in Uganda.
"True, it is a big task to deal with other partners because of personal differences. But the benefits of partnerships outweigh the challenges. It helps us to control your egos and weaknesses. It also teaches us to be accountable because you have to explain to the other members, which is different from sole proprietorships. At the end it is the purpose of coming together which is business that is the glue of partnerships," Nahabwe said when answering the queries of how he handles partnerships.
Sudhir commended Nahabwe for his consistency, which he said should be a lesson to many young prospective entrepreneurs. "Consistency is very important in business. It helps one to learn from your mistakes. And believing in oneself, your ambitions and dreams," he said.
Nahabwe, who said his target audience, is young people, passionately talked about building constructive relationships as a basis for success in business and career. "Social media has a lot of opportunities and people you can you utilize to your advantage. It is a fruitful platform for contacts," he said.