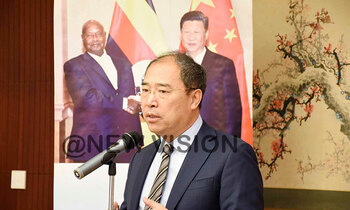 Uganda and China have signed a Comprehensive Cooperation Partnership, an agreement to elevate the two countries' relationship across multiple fronts.
China's ambassador to Uganda, Zheng Zhuqiang disclosed on Wednesday that the agreement was signed during President Yoweri Museveni's visit to China two weeks ago.
"The agreement means that China considers Uganda a valuable partner and vice versa. For the last ten years, bilateral projects have expanded and there is great potential for further development of relations," Zhuqiang said at a reception at the Chinese embassy.
Last month, President Yoweri Museveni led a delegation of the Ugandan government and business officials to China, at the invitation of his counterpart, President Xi Jinping.
Museveni officially opened a meeting of coordinators for the implementation of the Forum on China-Africa Cooperation (FOCAC) summit action plans.
The coordinators' meeting was a follow up to last year's FOCAC summit held between China and African leaders, during which China announced eight cooperation plans with Africa.
Museveni later attended the first ever China-Africa Economic and Trade Expo in Hunan Province and held meetings with Chinese companies keen on investing in Uganda.
Museveni and Xi held bilateral talks and witnessed the signing of several agreements for cooperation in several fields including finance, agriculture and health.
The President went on what he described as 'a revolutionary's pilgrimage' to the birthplace of the founding father of China, Chairman Mao Zedong in Shaoshan, Hunan Province in China.
He paid tribute to Mao as an inspiring figure whose actions to liberate China he said inspired other revolutionaries in other countries, including Uganda.
Speaking at the reception meant to commemorate the trip, Zhuqiang said the embassy would work with ministries to implement the resolutions of the two leaders and FOCAC resolutions.
Ambassador Charles Sentongo, the Chief of Protocol at the ministry of foreign affairs thanked the Chinese embassy for facilitating Uganda's business delegation to exhibit at the expo.
China is bolstering bilateral cooperation with Africa in eight areas: industrial cooperation, infrastructure connectivity, facilitating trade, environment protection, and health aid programs.
The Asian country and world's second-largest economy set aside a $60b to support development projects with Africa and has supported and encouraged Chinese firms to invest in Africa.
China is currently Uganda's second largest trading partner and largest source of foreign direct investment. China is financing some of the largest infrastructure projects in Uganda, including the 600MW Karuma hydropower project and 183MW Isimba hydropower project.