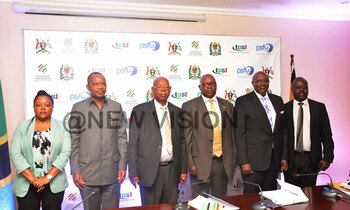 TRADE BUSINESS
Government has launched the Uganda-Tanzania business forum, a platform officials say, will open floodgates for investors to tap into vast trade opportunities between the two East African Countries.
According to Dr. Philemon Mateke, the state minister for regional affairs, the main objective of the Uganda-Tanzania forum is to create an enabling platform for business organisations in both countries.
"The two Governments have created an enabling environment for trade. There is peace in both countries, and infrastructure has been worked on and created. So, there is no excuse for not carrying out trade between the two countries," he said during the launch of the forum on Wednesday at the headquarters of the Ministry of Foreign Affairs in Kampala.
Scheduled for September 4-5 at the Julius Nyerere International Convention Centre, the Uganda-Tanzania business forum is organised under the theme, 'promoting bilateral trade and investment for growth and sustainable development.'
"The forum will bring together business leaders, policy makers and other stakeholders to explore opportunities in the two countries and the region in general," Richard Kabonero, the Ugandan High Commissioner in Tanzania said.
Kabonera said that during the forum, business people will also interact with President Yoweri Museveni and his Tanzania counterpart John Magufuli on a wider number of issues affecting trade between the two countries.
The Tanzania High Commissioner in Uganda, Aziz Mlima, said as a mechanism to lay ground for the efficient trade relations between Uganda and Tanzania, efforts are underway to weed out trade barriers, especially tariffs and other related restrictions to enable traders access the opportunities that the two countries present to traders.
Officials say the volume of trade between Uganda and Tanzania has increased over the years, with the value of Uganda's exports to Tanzania now at $69m.
"I would like to thank our two missions in Dar es Salaam and Kampala for organizing this forum. This is the first ever business forum between Uganda and Tanzania," Mateke said.