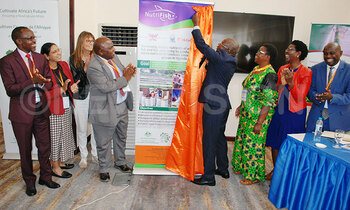 NUTRITION FOOD SECURITY

KAMPALA - We add value to silverfish (mukene) but our biggest challenge is how to preserve it especially during the rainy season. When the weather is bad, the fish does not dry which results in rotting and cannot be processed into nutritious products says Perus Lugose the coordinator, Kiyindi fish processors association located in Buikwe district.

Lugose says with the introduction of new technologies such as the solar tent drier, the post-harvest losses resulting from bad weather will be reduced.

Lovine Kobusingye, the chairperson Uganda Women Fish Processors Association says the women are looking forward to partnerships and the introduction of the new technology. For example, we do not have handling facilities such as refrigeration trucks or cold storage.

"Once the products are processed better, the chances of the better market and improved income are high," Kobusingye notes.

The women testified during the launch of a project geared towards promoting nutrition and food security dubbed: Harnessing Dietary Nutrients of under-utilised fish and fish processing byproducts to reduce micronutrient deficiencies among vulnerable groups in Uganda" (NutriFish) - CultiAF2 Project at Golden Tulip, Canaan Hotel in Kampala on Thursday.

The three-year project worth CAD 2.7 million (about sh7.6b) is a result of a collaborative effort of a consortium of researchers winning a competitive research grant.

The consortium comprises of Makerere University (Department of Zoology, Entomology and Fisheries Sciences (ZEFs), College of Natural Sciences (CoNAS); National Fisheries Resources Research Institute (NaFIRRI) of the National Agricultural Organization (NARO); NUTREAL Uganda Limited; and McGill University, Canada.

The project is co-funded by the International Development Research Center (IDRC) of Canada, and the Australian Center for International Agricultural Research Center (ACIAR), under the Cultivate Africa's Future Fund Phase 2 (CultiAF2).

Dr. Jackson Efitre, the principal investigator said the project will produce and promote nutritious, affordable and safe fish-based products that are accessible to vulnerable groups including children, women of reproductive age and the elderly.

The small fish such as mukene (silverfish) Ragoogi, Muziri and Nile perch cut-offs will be crushed into powder and used to enhance nutrition by making several products, Efitre said.

"People detest mukene because of the misconception that it is food for animals and poultry. Only 40% of the small fish caught are utilized as human food, making it "under-utilized due to poor handling and rudimentary processing. Yet when it is refined for human consumption, it is actually better than the big fish because you eat it plus its bones which provides calcium and other nutrients," Efitre notes.

According to the deputy director for research at the National Agricultural Research Organization (NARO), Dr. Julius Mukalazi, this is one realization the NutriFish project is bringing; that let us change our attitude because we are missing out on the good things.

Through increased availability and accessibility of the fish-based products, micronutrient deficiencies among vulnerable groups such as children, women of reproductive age and the elderly will be reduced.

Uganda is grappling with issues of food security and micronutrient deficiencies also termed as hidden hunger which constitutes serious challenges to human health and economic development in Uganda.

"Children below five years and women of reproductive age in rural and peri-urban communities are particularly affected due to limited access to animal protein and micronutrient-rich foods such as fish," Efitre said.

The 2017 Global Nutrition Report from UNICEF informs us that Uganda's children below the age of five years suffer from anaemia and are stunted as a result of lack of Calcium and Omega 3, among other vital nutrients that aid child growth and brain development.

The Uganda Demographic Health Survey (2016) indicates that seven out of 10 children under the age of five are Zinc deficient; five out of 10 children are anaemic which means that they lack Iron and three out of 10 are Vitamin A deficient which is a very big problem.

The same report reveals that 11% of children are underweight, 29% are stunted and 4% are wasted.

Additionally, for every 10 women, about three are Zinc deficient, anaemic and four out of 10 women are vitamin A deficient.

Micronutrients are elements or substances we need in small quantities but are very essential for healthy growth and development. So they are needed for brain development and immunity. They include Zinc, Ion, and fatty acids.

Micronutrient deficiencies are caused by a lack of enough food of animal origin such as the meat although fish is a key thing.

Founding director NUTREAL Limited, Dr. Dorothy Nakimbugwe said the project is two way. Apart from the health benefits and food security, it will also improve income.

"It avails business opportunities because people will transport the products to other areas where they do not interface with open waters and therefore do not have access to fish," Dr. Nakimbugwe notes.

In addition, Anthony Taabu Munyaho, the director of the National Fisheries Resources Research Institute (NaFIRRI) said there will be export opportunities for small fish just like the big fish. The project will also bring the women dealing in fish and its products on board.

Often at landing sites, men venture into selling of big fish such as Nile perch and Tilapia while the women dry, smoke and sell silverfish to add value.

Taabu said through enhancing their capacities by giving them the opportunity now to process their fish in a better way using the solar drying tent, the women will be empowered to enable their products to get space on the shelves of supermarkets because it meets the standards

"The piloting will be done in selected landing sites around Lakes of Victoria, Nabugabo, Albert, and Kyoga. If the interventions work, it will be rolled out to other districts," Efitre said.