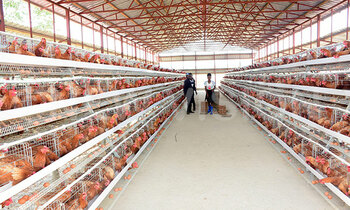 AGRICULTURE DEVELOPMENT

LUWERO - The Senior Presidential advisor heading the Poverty Alleviation Department (PAD) under State House, Joan Kakwenzire has disclosed that her department operates on an annual budget of sh1.2bn.

She receives a quarterly release of sh250m from the treasury, which she said was too small to enable her to accomplish her targets.

According to Kakwenzire, although the department operates on a small budget, it has been able to establish model villages in 29 parishes in the country. Six of these are found in Western Uganda, six in Eastern Uganda, six in the Central region and soon the department plans to establish more model villages in the North and North East.

She said President Yoweri Museveni recently instructed the department to roll out the 'model village' system countrywide, to be able to increase household incomes and meet the personal needs of the ordinary rural Ugandans.

She, however, said the President wants the programme to be operated on better and improved methodology, and emphasis be given that it is not about politics, but purely developmental.

Under the model village system, State House has been able to set up four Presidential demonstration farms in Kawumu, Makulubita in Luwero district, Baralegi in Okwang Sub-county Otuke district, Kityerera in Mayuge, and at Gili Gili in Arua district, West Nile.

Kakwenzire was recently briefing journalists after a tour of a few selected lead farmers in the three villages of Kagembe, Kawumu A and Kawumu B in Luwero, which make one model village in Luwero district.

The three villages have 257 homesteads selected from 517 homes and each of them have been assisted in one way or the other by State House to add to their incomes.

The three-year programme, which was launched in 2017 has at least achieved 51% of its target of helping the poorest homes boost their incomes by facilitating them to start an income generating project.

There are two extension workers from State House for each of the model village who train and guide the programme beneficiaries to improve their activities.

However, Kakwenzire said there were still multiple challenges in the fight against poverty but they were almost similar in all parts of the country, with just a few variations.

Some of the biggest challenges, according to Kakwenzire, include apathy towards work, which she said had led to persistent poverty and a decline in productivity.

"Everywhere you go you find almost similar characters in communities, with the majority of the rural people having a negative attitude towards work, high incidents of drunkenness, poor hygiene, and youth who do not connect with parents, among others," she explained.

She, however, noted that the department would continue to traverse villages to mobilize people to pick the President's message of planting more food to ensure food security, increase household incomes to be able to meet personal needs, among others.

Responding to concerns from one beneficiary, Joseph Wasswa who said his cow was producing too little milk to enable him to sell to get money, Kakwenzire said it was true some people receive low-quality cows, especially in the Central and Eastern because they do not have the required skills to look after high breed cows.

She said high breed cows that produce more milk cost between sh2.5m and sh4m yet the majority of the villagers are supplied with cows that cost between sh1.2m and sh1.8m.

"It is common knowledge that people in the Central and the North are not performing well in looking after cows, it is not proper therefore to supply them with high-quality cows that stand a risk of dying, that is why we intentionally give them third grades," she said, adding that some beneficiaries have to be taught how to feed the animals.

Charles Kiwuwa, the Private Secretary to the President said the main intention of the PAD programme was to increase the incomes of individual households and the general welfare of the ordinary people.

One of the lead farmers in Kawumu A model village, Imelda Kasi Nakibuule said she returned to the village after her merchandise was burnt twice in the Park Yard market in Kampala but a few years later she does not regret her decision, courtesy of the PAD.

The former businesswoman said she started with 1,000 chicks at her farm but PAD gave her 3,000 more and now earns sh45m per month out of the sale of eggs and aims at rearing 10,000 birds in the future.

She also got a loan from the bank to build a storage house and is able to service it using sales from eggs.

She also keeps pigs and recently sold 80 animals out of only eight she received from PAD. She has a one-acre plantation of matooke and in addition, she grows maize, beans and other crops that supplement her income.

At the Kiwumu demonstration farm, State House put a number of projects intended to train the local people commercial agriculture.


The projects include one acre of Elite Robusta coffee that was planted by the President in December 2016. The coffee is ready for harvest.

Others are mushroom growing, pineapple, passion fruits, mangoes, fish farming, chicken rearing, and dairy cows, among others.