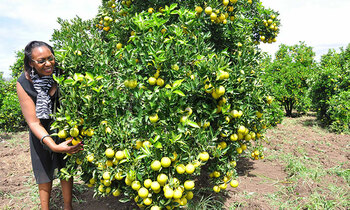 Fruit farmers in Soroti district have started cutting orange trees down after the Soroti Fruit Factory management declined to take their oranges saying they are not the type for producing juice.
This was revealed by Public Affairs Centre official based in Soroti, Julius Arugo who said the efforts of fruit farmers has been frustrated.
According to Arugo the fruit farmers' anger has boiled to the extent that they have also rejected the government's operation wealth creation (OWC) seeds.
He said this during stakeholder dialogue on tax measures government has put in place to generate revenue in the 2019/2020 budget in Kampala.
Dr.Everline Aketch (left) a consultant with Henry Ssemanda (centre) senior technical advisor with Governance Accountability Programme (GAP) senior manager of Pricewhitehousecoopers (PWC) Travor Lukanga addressing participants during a meeting in Kampala. (Photo by Francis Emorut)
The stakeholders' dialogue was convened by Tax Justice Alliance Uganda meant to assess whether government tax measures are sustainable and equitable.
The Soroti Fruit Factory located in Arapai Sub-County, Aloet village in Soroti district was recently commissioned by President Yoweri Museveni.
Museveni advised the people of Teso Sub-region in Eastern Uganda to continue growing fruits because it is the 'medicine' to get them out of household poverty.
The factory was financed by the Government of Uganda through the Uganda Development Corporation (UDC) in partnership with the Korean National Cooperation Agency (KOICA) who contributed US$7.4 million.
Arugo was supported by Kumi municipality MP, Silas Aogon who informed participants that 60% of oranges grown in Teso can't be consumed by Soroti Fruit Factory.
The lawmaker said even the oranges used to kick start the factory were imported from Tanzania.
Dr Everline Aketch a consultant criticized some lawyers who say tax avoidance is legal while tax evasion is illegal.
"We need to review tax policies in tandem with East Africa region to curb tax avoidance," Dr Aketch said.
She emphasized that citizens will be motivated to pay taxes if government can ensure that social services are of quality standards.
Travor Lukanga, senior manager with Price Whitehouse Coopers told the audience that government's move of protectionist in order for the local industries to grow is defeatist.
Lukanga argued that Uganda's economy is small and needs access to other markets.
"There are lessons to learn from elsewhere. Can we rely on our market to drive industrialization?" Lukanga asked.
Charles Kazibante from Masaka wondered how Uganda Revenue Authority officials assess tax which has resulted to some business people to close their shops due to high tax.