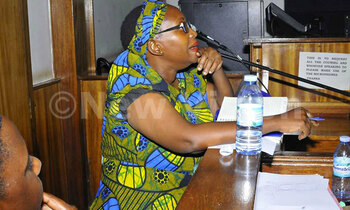 KAMPALA - Former Makerere University researcher Dr. Stella Nyanzi accused of offensive communication and cyber harassment against President Yoweri Museveni has lined up 20 witnesses to defend herself.

On Wednesday, Nyanzi through her lawyers Isaac Ssemakadde and Derrick Bazekuketa asked Buganda Road Grade One Magistrate Gladys Kamasanyu to issue witness summons for her witnesses such that they appear in court to defend her.

Among the witnesses, Nyanzi intends to summon include President Museveni who the prosecution says is the complainant in the matter.

Others are Criminal Investigations Director (CID) Grace Akullo, Dr. Ronald Kakungulu Mayambala, Eng. Frank Kitumba, Mustapha Mugisha, Dr. Sylvester Kahyana, Dr. James Ociti, Dr. Susan Kiguli, and Prof. Abas Kiyimba. Dr. Sylvia Tamale, the coordinator of gender, law and sexuality at Makerere University, Prof. Fredrick Jjuuko, Allan Tacca, Solomy Nakaweesi, Bishop Zac David Niringiye, Fr. Gaetano Batanyenda and Mildred Apenyo, a daughter of city lawyer Charles Dalton Opwonya.

Opwonya was among the three prosecution witnesses who testified in the matter.

Ssemakadde told the court the rest of the witnesses are minors who could not be disclosed in an open court.

Last week, the court ordered Nyanzi to defend herself on grounds that the prosecution had established a prima-facie case against her, necessitating her defence.

Nyanzi refuses to address court

Prior, the trial magistrate asked Nyanzi to inform her how she would like to defend herself but she did not respond.

"Dr. Nyanzi, you have three options for your defence. You can give evidence on oath and that means you will be cross-examined by the prosecution, you can give unsworn evidence and not cross-examined by the state or opt to remain silent. Therefore, what is your mode of defence?" the magistrate asked.

Nyanzi who appeared jovial did not respond, prompting Ssemakadde to inform the magistrate that she had opted to call witnesses but she could invoke her rights at a later stage to be a witness in her case.

"The accused at this stage chose to remain silent and call witnesses because she cannot be a witness in her own case," Ssemakadde said.

This prompted the magistrate to seek indulgence from Ssemakadde whether she could record that the accused has chosen to remain silent in the matter. "Counsel should I record that the accused has opted to remain silent?"

In reply, Ssemakadde said, "This court cannot force my client to disclose her strategy of defence."

State prosecutor Timothy Amerit opposed Ssemakdde's mode of procedure noting that under Article 28 of the Constitution, an accused has to first inform the court of how he/she intends to defend.

"Your Worship, as an officer of this court, I oppose this kind of procedure that could lead to procedural mistakes," Amerit said.

This prompted the magistrate to adjourn the matter until Monday to rule on the matter.

Nyanzi who has been on remand since November last year was remanded until then.

The charge

The prosecution alleges that on September 16, 2018, Nyanzi posted on her Facebook page indecent words against the president and his late mother Esteeri Kokundeka.

According to the state, the said posts were intended to disturb their peace and right to privacy.

On April 10, 2017, Nyanzi was also charged in the same court with the same offences but her trial never kicked off.

The law

Under the law, any person who willfully and repeatedly uses electronic communication to disturb or attempts to disturb the peace or right of privacy of any person with no purpose of legitimate communication is liable on conviction to a fine not exceeding twenty-four currency points or imprisonment not exceeding one year or both.

In regard to Cyber Harassment, a person who willfully, maliciously and repeatedly uses electronic communication to harass another person and makes a threat with the intent to place that person in reasonable fear for his or her safety or to a member of that person's immediate family commits the crime of cyberstalking and is liable to a fine or imprisonment term not exceeding five years or both.