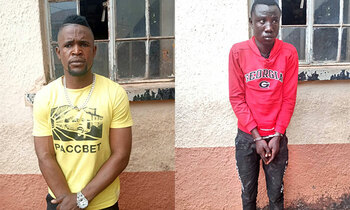 CRIME JUSTICE POLICE

KAMPALA - Police have arrested two men accused of snatching valuables, especially mobile phones, from motorists during traffic jams and at street lights.

Ashraf Kivumbi was arrested with his colleague identified as Baker alias Buuba. Their arrest followed an attack on a Chinese national, Yuquang Wei on May 26, 2019, along Bombo road.

During the attack, the suspects are said to have broken Wei's arm and injured his nose before robbing his property, including an unspecified amount of cash, revealed Kampala Metropolitan police spokesperson, Patrick Onyango.

Kivumbi was identified by an officer, who responded to the attack, but he was able to evade arrest on the fateful day, but a hunt for him was launched.

"On June 2, Closed Circuit Television (CCTV) cameras captured him snatching another mobile phone from one Fred Katsinzi while he was driving in his Toyota Harrier vehicle near Bible House on Bombo road," said Onyango in a statement.

Onyango added; "With this tangible evidence, our officers used the footage to trace for Kivumbi's whereabouts and later arrested him at his mother's residence yesterday (Monday)."

According to Onyango, Kivumbi is a renowned phone snatcher who operates along Bombo road, around Kisekka market and in areas of Old Kampala.

Upon arrest, police dug out Kivumbi's history and found that he had several criminal cases on which he was arrested and convicted. "After serving his sentences, Kivumbi returns and continues with the thefts."

After arrest, Kivumbi led police to his accomplice (Buuba), who often hangs around Kasubi, and he (Buuba) was also arrested.

Both suspects face charges of theft, aggravated robbery and being in possession of stolen property, revealed Onyango. "The two are part of criminals who snatch valauables from unsuspecting motorists in traffic jam and at traffic lights," he stated.

Onyango commended the police foot patrol officers who tracked Kivumbi with the help of CCTV cameras, leading to the suspects' arrest.