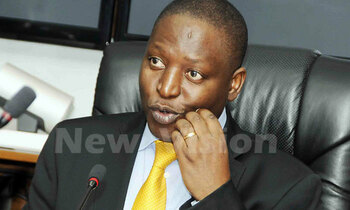 The finance ministry has informed Parliament that various government agencies are still investigating how extra cargo were found on a Bank of Uganda chartered flight from France.
State minister for finance David Bahati said the investigations so far are going on well and will be concluded soon. "The Ministry of Finance, Planning and Economic Development together with Bank of Uganda still await the final report from the Corruption Unit of State House," Bahati said.
Giving the background of the investigations, he said Bank of Uganda (BOU) entered into a contract with Oberthur Fiduciaire on 26th July, 2018 to supply and deliver printed matter.
He said the contract required that the supplier identifies at least two reputable carriers and insurers and advise the Bank of the applicable terms and costs.
The supplier's communication indicated full charter for the three options that were provided, from which the Bank selected Kuhne & Nagel to airlift the printed matter to Entebbe International Airport.
He explained that in line with the contract, the Bank sent staff to travel to France to undertake the quality assurance functions of ensuring that the right consignment was loaded on the cargo plane from 22-26 April, 2019.
He said the activity started at the factory and ended at the nearest international airport where the plane took off for Entebbe.
He noted that on the 27th April 2019, the printed matter arrived at Entebbe International Airport. "As expected, 20 pallets destined for BOU were received, intact and well-sealed. However, the BOU team at the airport noticed five extra cargo pallets on board the chartered plane," he said.
He said that on receipt of the report on 7 May, 2019, the Governor, Emmanuel Mutebile took a decision to have an investigation conducted by the Anti-Corruption Unit of State House because the issue involved third parties.
"Since 10 June 2019, staff from the Bank of Uganda are under investigation and have all recorded statements. Bank of Uganda is still committed to assist the investigators to ascertain the facts surrounding the matter. I appeal to the public to restrain from perpetuating the false information that could compromise the investigations," Bahati said.
"I assure the public that we shall get to the bottom of this matter and the truth will be known and given to the general public in a timely manner. So far there is no indication that this incident will affect our economy negatively especially in terms of inflation," he added.