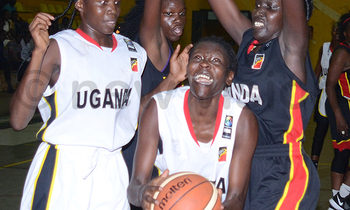 Egypt women basketball team coach Ehab Elalfy is confident his side has what it takes to upset any team in the Zone V Afro Basket Championship that gets underway on Wednesday at the Lugogo Arena.
"We have prepared well and have the experience that is needed in this competition. We have one professional player (Czech-based Reem Moussa) who will be playing with us for the first time which gives us more confidence. It will be important to handle these games well," stated Elalfy after Egypt just finished working out at the arena ahead of the six-day championship.
"Uganda has the home advantage which makes them good while Rwanda is another tough team since I know some of their players. But we are up to the task," he said.
Uganda's teams; the Silverbacks (men) and Gazelles (women) who have been in a residential camp at Africa Bible University in Lubowa for more than a week will have no excuses at home.
"Our ultimate goal which is qualifying for the next round of AfroCAN is valid as we work towards the best output," said Silverbacks head coach George Galanopoulos.
Hosts Uganda will contest for qualification with Kenya, Tanzania, Tanzania, Egypt, South Sudan and Rwanda.
The winners of both the men and women competitions will qualify for the Afro Basket and AfroCAN championships to be played in Mali and Senegal respectively in August.
Silverbacks: Josh Johnson (City Oilers), Tonny Drilleba (City Oilers), Jimmy Enabu (City Oilers), Syrus Kiviiri (Betway Power), Robinson Odoch (City Oilers), Mark Opiyo (Kyambogo Warriors), Steven Omony (City Oilers), Joseph Ikong (Betway Power), David Deng Kongor (UCU Canons), John Deng Geu (North Dakota State, USA), James Okello (City Oilers), Geoffrey Soro (Betway Power), Brandon Davies (Zelgris Kaunas, Lithuania), Stanley Mugerwa (Warriors), Daniel Manoja (JKL Dolphins), Ivan Lumanyika (JKL Dolphins).
Gazelles: Flavia Oketcho (JKL), Judith Nansobya (KCCA), Rita Imanishimwe (JKL), Brenda Ekone (Nkumba Lady Marines), Jamila Nansikombi (JKL), Zainah Lokwameri (UCU Lady Canons), Sarah Ageno (UCU Lady Canons), Priscilla Abbei (UCU Lady Canons), Claire Lamunu (Kouvottari. Finland), Hope Akello (JKL), Martha Soigi (KCCA Leopards), Urysla Cotton Kelenza (USA)