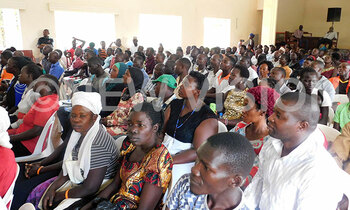 TRADE LAWS

KAMPALA - Nakawa division hawkers and street vendors have embraced the proposed vendors' ordinance, 2019, expressing hope that once registered, Kampala Capital City Authority (KCCA) will protect their business interests.

The purpose of the ordinance is to provide a legislative framework that will allow street traders to carry out hawking and vending on the streets in an orderly fashion.

Under the proposed ordinance, all vendors and hawkers are expected to register with KCCA, have a special street trading license, identification numbers, and uniforms which will be purchased from KCCA, among other issues.

The hope is that this will spur an increase in the purchase and sale of goods and enable greater economic activity that will promote the welfare of Kampala residents.

Over 2000 traders during the meeting with KCCA deputy director for gender and community Esau Galukande, Nakawa Mayor Nsubuga Balimwezo and directors from the legal department, said that they have waited for long to get registered.

"We have been waiting for KCCA to set laws and standards upon which we are supposed to work instead of running around with the enforcement team," John Baguma, a hawker in Mutungo said.

Galukande told the traders that the proposed ordinance is Kampala Capital City Regulation of Street Ordinance, 2019.

Sensitizing the traders on the move by KCCA at the Nakawa division headquarter on Wednesday, he added that they(traders) will be given the opportunity to participate and give their views on the ordinance before KCCA passes it.

"KCCA wants to provide clear guidance on vending and street hawking, no trading will be accepted without a KCCA trade licence, "Galukande said.

The Nakawa Mayor, Nsubuga Balimwezo told the traders that once the bill is passed into law, the traders will no longer be involved in the hassle of being chased and arrested by KCCA law enforcement officers.

"If you get arrested when you have all the requirements, which KCCA has stipulated in the law, it will be you to drag them to court, "he advised the traders.

The new ordinance will revoke paragraphs 13 and 15 of the Local Government (Kampala City Council) Maintenance of law and order ordinance 2006.

The traders hawking in Ntinda will pay sh514, while those in other parishes like Mutungo, Nakawa, and Kyambogo will pay sh175 daily charge.