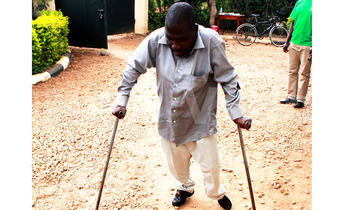 Theft
SOROTI - Thugs in the wee hours of Thursday raided the home of a disabled news anchor of a local radio Station in Soroti and stole his tricycle he uses while going to work.

James Enangu 39, a resident of Opiai B in Acetigwen parish Soroti sub-county in Soroti town was left in tears after his only means of transport was stolen.

"I could not manage to go to work today because my tricycle has been stolen yet I have to leave home at 5:00 am and a bulletin to read at 6:00 am," Enangu said.

He said he is negotiating with the managers of his station Kyoga Veritas to device means for him of going to work.

"It's not easy for me to get a boda-boda rider at 5:00 am to take me to work. Besides I can't afford a boda-boda on daily basis considering the salary I get," Perplexed Enangu said

He explained that the thugs took the tricycle that he has been parking on his veranda for the last four years.

"Since my home is not fenced, I think they took that advantage to steal my tricycle. I can't tell who is behind this but I appeal to whoever comes across my bike to report that matter to any authorities," Enangu pleaded.

He was unable to go to work today and he fears that he may lose his job should he fail to be at work in the days to come.

Enangu who has reported the matter to his area LCI says the tricycle costs 900,000 shillings which he says he can't afford now.

"I can't afford to raise that money unless I mortgage my only asset which is my house," Enangu said.

He suspects scrap dealers in having a hand in the Mistry disappearance of his tricycle.

According to police records in Soroti town, theft of vehicles was common last year where thugs would break into people's homes and steal.

However, that was addressed and for months the district has not recorded such cases.