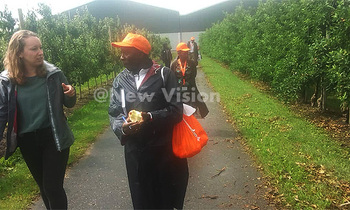 BEST FARMERS TRIP TO NETHERLANDS

It is day five (Thursday) and a group of Ugandan farmers on a study tour in The Netherlands are visiting dairy, piggery and fruit farms in Elshof in the Dutch province of Overijssel.

They are also checking out a potato farm as well as an irrigation system.

The farmers are on the trip after emerging winners of the 2018 Best Farmers Competition. They flew out of Uganda on Sunday.

So far, the group has visited the Dutch Royal De Heus, a livestock feeds processing plant whose product is also sold in Uganda under Koudijs outlets. The plant produces feeds for poultry, pigs, turkey, fish, cattle and horses, among others.

At Attro B.V., the farmers were impressed by the milking machines. They later toured a pig farm in Ons Boerenerf.

Here (below), they are having breakfast before hitting the ground running:





On Thursday, the group met organic farm producers in the village of Dronten in the west of Netherlands. This is known for growing onions.

OTC company buys organic products from mainly west Africa. These include mangoes, oranges, pineapples, but they wish to come to Uganda. They buy only certified organic foods.




They checked toured a peach farm.

ALSO RELATED TO THIS

Ugandan best farmers relish Netherlands trip