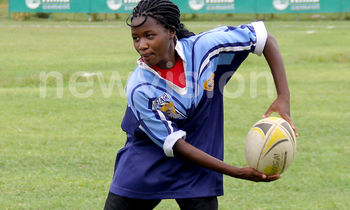 The return of some veterans coupled with the addition of fresh blood has Lady Rugby Cranes coach Edgar Lemerigar optimistic about the Elgon Cup this year.

The coach named a proficient 23 woman squad that will attempt to defeat the bigger and stronger Kenyans this weekend in Kisumu.

"We have a blend of both old and experienced players with some new crop. There are a number that have played Elgon Cup before but the selection was based on many things like training, availability injury levels," Lemerigar said.

Notably a lot of Uganda's more experienced 15's players like Winnie Atyang, Charlotte Mudoola and Hellen Gizamba among other are back so it will be quite interesting.

Of the young players Samiya Ayikoru's pace will be paramount if the Lady Rugby Cranes want to win against the competitive Kenyans.

Lady Rugby Cranes squad

Faith Namugga, Yvonne Najjuma, Christine Nakayiza, Charity Atimango, Hellen Gizamba, Mary Gloria Ayot, Winnie Atyang (captain), Beatrice Atim, Samiya Ayikoru, Charlotte Mudoola, Christine Akello, Peace Lekuru, Aisha Nakityo Nabulime, Rita Nadunga, Mary Kyoita Odoyi, Peace Mirembe, Warry Ssenfuka Joanita, Fortunate Irankunda, Irene Ziggy, Lydia Namabiro, Juliet Nandawula, Diana Kwagala and Esther Tino.