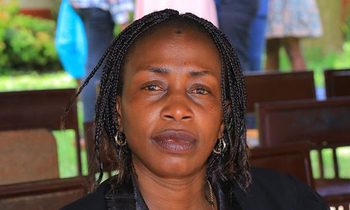 By Faridah Mayanja
The Presidential Initiative of Skilling the Girl Child started in April 2017 by the President of Uganda to empower the girl child. The initiative has helped skill girls aged between 16 - 30 in tailoring, knitting, weaving, bakery, confectionary, shoemaking and hairdressing.
According to the Uganda Bureau of Statistics 2018 abstract report, the highest proportion of Uganda's population is young (under 18 years) constituting more than half of the population (55 percent). The proportion of females in paid employment was 33 percent and 51 percent in self-employment. Men outnumbered women in most sectors. Youth labour force participation rate was 57.3 percent. This implies that 43 percent of the youth were not in the labour force thus idle and jobless and mostly found in urban places. The male youth were more active in the labour market with a higher LFPR of 66 percent compared to females (50 percent).
Hands-on skills are good for the youth. We don't need a generation of youth who are just information mills who are yet to implement what they know after getting educated. Training with no action-oriented results is something skilling the girl child has fixed. After the training, each graduate gets equipment and capital worth UGX 1,000,000 to start a business of what they trained in. The centres have program coordinators and administrators who follow up with the students offering them guidance and support.
The Presidential Initiative of Skilling the Girl Child has so far benefited over 17,000 girls since 2017. This has registered a Multiplier effect of work. This year alone, 4,292 girls have been admitted in the different centres. This means that over 17,309 girls could teach and employ more 17, 000 people indirectly in their communities, paving a way to achieving middle-income status and sustainable development goals. When they start businesses, they pay taxes but also improve themselves economically.
Hands-on skills result in a shift to job creators which has reduced youth unemployment. There is a myth that you can only get a job with a white collar education yet few jobs are available. Youth no longer have to sit home for a year and probably age without getting experience for office jobs. The Presidential Initiative of Skilling the Girl Child is free. It helps get them into self-employment whether educated or not.
More youth are getting inspiration and belief to remain in Uganda and make money employing themselves and building Uganda. Thousands of youth of productive ages have always been focused on trying life in abroad forgetting to
tap into local opportunities. The project is a testament that you can be an entrepreneur in Uganda and be successful by reskilling.
The inclusive enrollment process has seen more girls each year. No need for fees and unachievable requirements. All that is required for a student to enrol is her National Identity card and an LC1 letter.
The project is helping to build a culture of self-sustaining mentality through hands-on skills development which has not been there before. Changing patterns of work now dictate we need practical skills for the future. If you run a business, you can develop a project like this and do your part for social contribution towards your community.
The writer is the project manager of the Presidential Initiative of Skilling the Girl Child