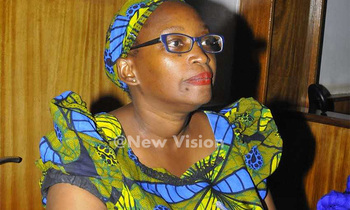 CASE

KAMPALA - The Buganda Road Chief Magistrate's Court has set Friday this week to determine whether former Makerere University researcher Dr. Stella Nyanzi has a case to answer or not.

This followed the closure of the prosecution case on Wednesday, with three witnesses giving evidence against her over cyber harassment and offensive communication against President Yoweri Museveni.

"Your worship, this has been the last witness for the prosecution. We therefore close our case against the accused. We pray that you find that the accused has a case to answer," said resident state attorney Janat Kitimbo.

The prosecution adduced in court three witnesses, including city lawyer Charles Dalton Opwonya, to pin Nyanzi.

Others were Bill Ndyamuhaki, a police officer attached to the cyber-crime directorate, and detective Harriet Kenyana, the investigating officer in the case.

This prompted the trial Magistrate, Gladys Kamasanyu, to set Friday to determine whether Nyanzi has a case to answer or not.

If the court finds sufficient evidence against her, she will be ordered to defend herself. However, she could be set free if the court finds no sufficient evidence adduced by prosecution against her.


Nyanzi has been on remand since November 2018, when the charges were read out to her. Prior, Kenyana informed court that she had declined to record a Police statement despite several demands.

"Your Worship, ee tried to retrieve a statement from her but she was hostile and her lawyer Isaac Ssemakadde too," Kenyana testified.

However, during cross examination by defence lawyer Derrick Bazekuketa, Kenyana said she did not indicate in her statement that Nyanzi and Ssemakadde were hostile to her.

The charge

Prosecution alleges that on September 16, 2018, Nyanzi posted on her Facebook page indecent words against the President and his late mother Esteeri Kokundeka.

According to the State, the said posts were intended to disturb their peace and right to privacy.

On April, 10, 2017, Nyanzi was also charged in the same court with the same offences but her trial never kicked off.

The law

Under the law, any person who willfully and repeatedly uses electronic communication to disturb or attempts to disturb the peace or right of privacy of any person with no purpose of legitimate communication is liable on conviction to a fine not exceeding twenty four currency points or imprisonment not exceeding one year or both.

In regard to cyber harassment, a person who willfully, maliciously and repeatedly uses electronic communication to harass another person and makes a threat with the intent to place that person in reasonable fear for his or her safety or to a member of that person's immediate family commits the crime of cyber stalking and is liable to a fine or imprisonment term not exceeding five years or both.



ALSO RELATED TO THIS STORY

Stella Nyanzi posts disgusting - witness