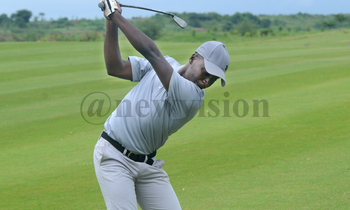 The Ugandan team participating in the 27th edition of the Toyota Junior Golf World Cup impressed everyone at the opening ceremony of the event on Tuesday at the Chukyo Golf Club Ishino Course, Nagoya.
Being the only black team in the competition, everyone wanted to know more about the team and when it came to taking pictures, the Ugandans dressed in matching yellow bas coats and black trousers became instant celebrities with everyone wanting to take a picture with them.
"Our corner became a photo booth; then we had to run and join South Africa," Uganda's team manager Oscar Semawere said.
But the Ugandan boys have failed to transfer that fame on the course and finished the first round 18-hole competition in the last place.
Apart from Dennis Asaba and Joel Basalaine who returned one and five-over par 73 and 77 respectively, the other two players; Michael Alunga and Ibrahim Aliga fired an identical 83 each as they continued to struggle with the fast greens.
Uganda would finish the first round with a gross of 233 from the best three scores that are considered in each round; 29 strokes off the leaders Spain who returned 204 to take a four-stroke lead in the first place.
But the Ugandans hope to improve in the remaining rounds to avoid finishing last in the competition.
Michael Alunga continued to struggle at the Toyota Junior World Cup in Japan
"The strategy is to reach the greens early and make two easy putts. That was our plan today though some of us still failed," Asaba, Uganda's best player at the tournament so far stated.
Coach Stephen Kasaija could not differ much saying: "The greens are too fast, which has created fear for the boys, resulting in a lot of missed putts. But I want them to get early on the greens and within areas from which to convert," Kasaija stated.
"We are planning to keep it calm and play each shot at a time. We also plan to improve on long irons because they are so essential in the scoring," team captain Basalaine noted.
Individual scores (Uganda)
Dennis Asaba 73
Joel Basalaine 77
Michael Alunga 83
Ibrahim Aliga 83
Boys team standings after Day-one
1. Spain 204 (-9)
t2. Japan 208 (-5)
t2. South Africa 208 (-5)
t2. United States 208 (-5)
5. Argentina 210 (-3)
6. Canada 212 (-1)
7. Sweden 213 (E)
8. Switzerland 214 (+1)
9. Australia 215 (+2)
t10. Thailand 216 (+3)
t10. Philippines 216 (+3)
12. Colombia 217 (+4)
13. Mexico 221 (+8)
14. Denmark 223 (+10)
15. Uganda 233 (+20)